Garrett AT Gold Reviews, Price and Specifications
Gold Prospecting and Relic Hunting Metal Detector
Retail Price: $799.95 (£500.00, €560.00)
Number of Reviews: 1
Avg. Rating (5.0 Stars)

Email to a friend.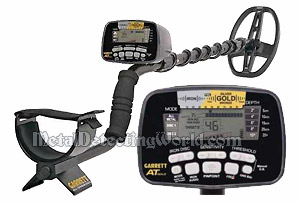 Specifications:
Operating Frequency: 18 kHz
True All Metal Mode - offers deepest detection depth and sensitivity on the smallest nuggets
Graphic Target Analyzing - simultaneously shows the target's conductivity and the detector's discrimination pattern
All Terrain - designed for use in wet, humid and dusty environments
Digital Target ID - numeral scale from 0 to 99; indicates a target metal's conductivity for increased ability to distinguish targets from each other
High-Resolution Iron Discrimination - provides 40 points of iron resolution controlled with touchpads and viewed as a digital number on the LCD for the most precise ability to separate a good target from iron trash
Adjustable Threshold - allows the user to manually adjust the audio threshold (constant background sound) to better hear targets
Pro Mode Audio - proportional audio response and Tone Roll Audio features provide more target information
Iron Audio - allows user to hear discriminated iron and to audibly identify problematic flat iron objects like bottle caps and washers
All-Metal Iron Audio - a Garrett exclusive feature that allows user to audibly identify iron objects even while operating in a True All Metal Mode
Manual Ground Balance - allows the user to manually adjust the detector's ground balance to reduce the detrimental effects of ground mineralization
Automatic Ground Balance - Fast Track - automatic feature that allows user to quickly ground balance the detector in mineralized soil conditions
Electronic Pinpointing - this Non-Motion All-Metal Mode is used to precisely locate a detected target's location in the ground
One-Touch Treasure Hunting - with the touch of a button, your metal detector is: powered on; automatically reset to factory (or your) settings; and ready to search
Depth Indicator: continually shows depth of coin-size objects
Battery Condition Indicator: shows battery life continually
3 Search Modes: True All Metal, Discrim 1, Discrim 2
2 Discrimination Modes for coin and relic hunting
Audio Tone ID Levels: 3
Ground Balance Window is to optimize the detector's performance in highly mineralized ground, where gold is most often found
Garett MasterSound headphones (waterproof headphones sold separately)
5"x 8" (14 x 20cm) PROformance Double-D submersible searchcoil
Waterproof to a maximum depth of 10 feet (3 meters) for searching in freshwater lakes and streams
Length (Adjustable): 42" to 51" (1.06m - 1.29m)
Weight: 3.03 lbs. (1.4 kg)
Batteries: 4 AA (included)
Warranty: 2 Year, Limited Parts/Labor
Garrett AT Gold metal detector was designed to find tiny gold nuggets in the most challenging prospecting environments, including shallow fresh water hunting.
Coin shooting with the AT-Gold
Ron Galiene in Lake Forest , Illinois. U.S.A. -

I put the larger 8,5 x11 coil on the AT-Gold to cover a larger area and went to an old park near Chicago. I wanted to test the unit's ability to find coins and to see how consistent the numerical readout was. I am an experienced detectorist and I bought the AT-Gold because of the many unique features: waterproof with external speaker, digital readout, user replaceable headphones and coil (other water capable machines must be sent back to the factory for this), lightweight, 18 kHz frequency, Proportional audio response and the list goes on... This machine has more features than anything else on the market! I was also very impressed with the quality of the unit. The fact that it runs for over 40 hours on 4 AA's is a big plus. Unfortunately I did not find any silver, but I did recover around 30 coins of which 12 were "wheat pennies". These were all at an average depth of 5 inches and they were high tones in the 80-81 range on the numerical. Clad quarters registered at 86 and clad dimes at 80. The consistency was superb. After a few digs the machine was predicting the targets perfectly. I dug some trash just to test tha accuracy and could easily distinguish junk from good targets by the sound which was not solid. I really liked the way deeper objects gave a softer or quieter sound. It was easy to tell what the deeper targets were just by the level of the volume. Did I mention that this is also a 3 tone detector...another feature on this feature packed machine. Not only is this unit loaded with features it is also quite powerful. I was impressed by the detecting depth. It registered a few 6 to 8 inch hits with no problem.
I can't wait to find some silver coins so I can see what the numerical value they produce. On other digital detectors I own, the silver quarters, halves, and dimes have numerical values higher than clad or copper coins. The only exception is usually quarters. Both clad and silver quarters almost always give the same value. It is the depth that usually gives an indication of silver or clad. Silver quarters are deeper in most cases. If you are finding clad quarters at, say, 4 inches at an 86 value and get a 6 inch hit with a value of 86, there is a good chance it's older and possibly silver. All said, it is an impressive metal detector. I will submit another review as I put the machine to more tests. I'm anxious to try freshwater hunting with it , but it's winter here now. The unit is also well balanced and has a Velcro strap on the elbow cup that works great for securing it to your forearm. I think Garrett has a real winner here and predict a lot of detectorists will buy it. If you get one you will like it.

Dec 16, 2011
227 people found Ron Galiene's review helpful.