Black Bull DS-23XL Super Scan Reviews, Price and Specifications
All-Purpose Land Metal Detector
Retail Price: $178.00 (£110.00, €125.00)
Number of Reviews: 0
Be the first to review this item
Email to a friend.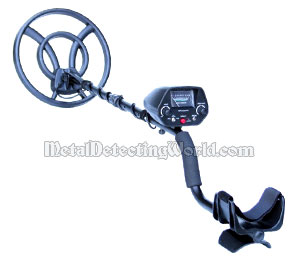 Specifications:
Search Frequency 5.5 kHz
50% additional depth
Special Tone / disc / all metal switch for search to show identification
Signal strength indication meter
Analog motion / metal nonmotion
Length adjustable for children and adults
Very rugged steel construction
Super performance and easy operation
Weight: 3.2 lbs (1.45kg)
Adjustable depth control
Automatic ground balance
Pinpoint button for precise location
Optical indication for detection of metals via LED
Audio indication when it detects metal
Detection depth: coins up to 36 cm, large objects to 200 cm
Search coil: 30 cm waterproof concentric
Locking of embedded test via LED
Headphones jack 3.5 mm
Built-in speaker with volume control
Low power consumption
Batteries: 2x9 volt system
1 year warranty
Black Bull DS-23XL Super Scan metal detector offers better depth and is the most powerful metal detector in BLACK BULL series with the 50% additional depth, improved discrimination legislation and special tone / disc / all metal switch and additional signal meter display. For children (from about 12 years) and adults. It comes with professional performance and professional features and is ideal for starting the metal detector hobby.