Fisher CZ-5 Reviews, Price and Specifications
All-Purpose Land Metal Detector
Retail Price: $849.95
Number of Reviews: 2
Avg. Rating (5.0 Stars)

Email to a friend.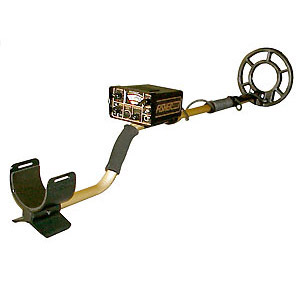 Specifications:
Visual target identification
Turn-on and go with pre-set control markings
3 tone audio target ID
Big target alert
Depth reading
Push button pinpointing
Wet-sand operation
Deep-target audio boost
Built in speaker
2 9V batteries for up to 20 hours of operation
Standard 3-piece breakdown handle for easy transport
Control box can be handle or hip mounted
Lifetime Warranty
CZ detector still best out there
Richard McCleary in Puyallup, wa. -

I own a CZ6a and a CZ-21 for the water. I just picked up a CZ5 on E-bay. I have a hearing loss and can not hear all the sounds from Minelab detectors which are also excellent machines. For my money, the Fisher CZ series are second to none when it comes to finding the older coins. Nickles seem to jump out of the ground. And they are build like a tank. If weight is a problem, then hip-mount the unit.
Oct 11, 2011
27 people found Richard McCleary's review helpful.
An Oldie but Goodie
Tom Kamrowski (SgtSki in MI) in Camp Victory: Baghdad, Iraq -

I currently own a CZ-5 which I purchased a few years ago. It's been almost 20 years since the CZ-5 was introduced, and it's still going strong. One thing about the CZ-5 that I like is that it LOVES Nickels!!! It still gets fooled by the occasional beaver tail but it calls a nickel a "nickel" more accurately than a lot of detectors out there, even much newer designs. The CZ-5 is relatively easy to use with one exception - ground balancing, there are two methods described in the manual, but setting the ground balance knob to its factory setting (red number on dial) will net satisfactory results as well. The other controls present on the machine are a volume knob, sensitivity knob, multi-position discrimination switch, a SALT/NORMAL toggle switch, and a pinpointing pushbutton. There is also a Target ID meter which doubles as a depth meter when the pinpointing button is pressed. The discrinination switch also has a setting to reject iron only, which is a great asset on the Lake Michigan beaches that I hunt with it. The control box can be detached from the shaft for belt or chest mounting. When I first used my CZ-5, the very first target I found was a silver Roosevelt Dime. The depth meter is fairly accurate, which is a plus when trying to distinguish between an Indian Head Cent, and a cruddy modern zinc penny. I discovered that it gets fooled by deep iron and old bent square nails, but so does my Explorer so that isn't a big issue to me personally. The CZ-5 is a very sensitive machine and I rarely hunt with a sensitivity setting higher than 5. One misconception of many detectorists is that more sensitivity means more depth. I've found this to simply be not true and I've recovered Barber Dimes and Indian Heads with my CZ-5 at 6 to 8 inches with my sensivity set at 3! This is not widely known, but the CZ-5 is a dual-frequency detector. This is transparent to the operator as there are no controls for this feature. It's interesting that this machine was out in the field long before the dual/multi frequency detectors were touted by Whites' (DFX) and Minelab (Sovereign, Excalibur, and Explorer Series). The CZ-5 came stock with an 8" coil but would accept Fisher Accessory Coils as well. I have a 10" and 4" coil in addition to the stock coil, and have good results with all. Sadly, the CZ-5 is no longer being produced and neither are it's offshoots (CZ-6, CZ-6a, and CZ-3D). With the absorbtion of Fisher by First Texas Products, many true Fisher designs are being phased out due to the advent of what I call "Bounty Fishers" such as the F4 and F75. The CZ's are still out there in the secondhand market, and I highly recommend a CZ-5 as a great all-around metal detector that can still hold its own in the field today.
Dec 31, 2007
171 people found Tom Kamrowski (SgtSki in MI)'s review helpful.