Golden Mask 2 Reviews, Price and Specifications
All-Purpose Land Metal Detector
Retail Price: $ 400.00 (£250.00, €285.00)
Number of Reviews: 0
Be the first to review this item
Email to a friend.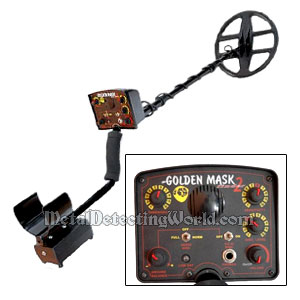 Specifications:
Ultra High Power VLF-TR Transmitter
Variable Transmit Frequency - 8kHz
Multi Tone Discriminator
Manual Ground Balance
Fully Screened Control Box
Low Battery Light Indicator
Multi Adaptive Filter System
1/4" Headphone Jack
Battery Life: 40 Hours Continuous Use
Batteries: High Capacity 12V Ni-Mh Rechargeable Battery Pack
Search coil: 10.5" DD Wide Scan Coil
Weight: 3 lbs 11oz (1.4 kg) with the 10.5" coil fitted
5 years warranty for electronics
1 year warranty for search coil
2 year warranty
The Golden Mask 2 from GM Metal Detectors Ltd is ideal for the detectorist with some experience who wants to move up to a more professional machine. This powerful machine oozes quality, easy to set up, comfortable and lightweight to use. Very good on all types of ground with exceptional depth and speed.