Golden Mask 3 Reviews, Price and Specifications
All-Purpose Land Metal Detector
Retail Price: $460.00 (£285.00, €322.00)
Number of Reviews: 1
Avg. Rating (4.0 Stars)

Email to a friend.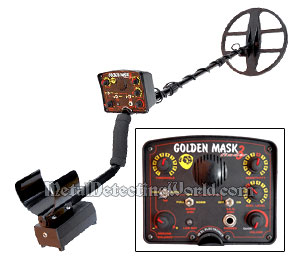 Specifications:
Ultra High Power Transmitter with VLF working Frequency
Variable Transmit Frequency - 8kHz (6.0kHz, 7.0kHz)
VLF-TR technology
Multi Tone Discriminator
Manual Ground Balance
Automatic Ground Balance
Fully Screened Control Box
Low Battery Light Indicator
Multi Adaptive Filter System
Turbo Switch for 30% more Power
1/4" Headphone Socket
10.5" DD Wide Scan Coil
Weight: 3 lbs 11oz (1.4 kg) with the 10.5" coil fitted
Tough ABS battery box fitted with NiMh batteries
No target pinpoint feature
High power electronics
Discrimination by moving the coil
Audio discrimination
Multi tonal discrimination
VCO Sensibility control
Eliminates ore soils and heavy mineralization
Ground balance: Automatic and Manual
Rechargeable batteries - 12V/ 1000 mA
Battery Life 40 Hours Continuous Use (10-14 hours on a 4-6 hour charge)
High Capacity 12V Ni-Mh Rechargeable Battery Pack
5 years warranty for electronics
1 year warranty for search coil
2 year warranty
Golden Мask 3 Impressions
Janne Keinänen in Finland -

Golden mask 3 have found me lots of good relics/coins in places, that I have before detected with far more expensive detectors.
This detector performs good in old iron contaminated places, has great detection depth and very fast recovery speed, and is very sensitive towards small stuff.
I highly recommend this detector because it works great in pasture and ploughed fields. Very good build quality/performance for the price, but could be a little lighter.
Mar 30, 2011
28 people found Janne Keinänen's review helpful.