Bounty Hunter Legacy 3300 Reviews, Price and Specifications
All-Purpose Land Metal Detector
Retail Price: $399.00 (£245.00, €280.00)
Number of Reviews: 0
Be the first to review this item
Email to a friend.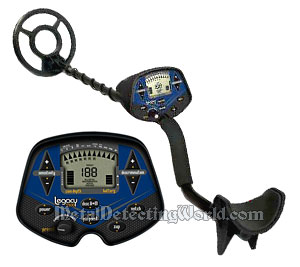 Specifications:
Operating Frequency 6.7 kHz
Jumbo LCD Display (Identifies more targets than the Legacy 2500)
Super Scan Advanced Microprocessor Controlled Circuitry
Motion Discrimination
Numeric target identification accurately identifies buried targets on a scale from 0 to 99
Programmable Discrimination
Ground Balance Knob (present or manual override)
All Metal Pinpoint Mode
4 Tone Target Identification
7 Segment Target Elimination
11 segment digital target identification
Notch Discrimination (Filters out junk while still locating gold and valuables)
Zap Mode (Lets you accept or reject specific targets)
Coin Depth Indicator Digital Display (0 to 8 Inches)
Squelch Tech Noise Reduction Circuitry
Touch Pad all digital Controls
Automatic Ground Balance
Headphone Jack (headphone not included)
Interchangeable coil system (4" and 10" Coil Options)
Adjustable Padded Arm Rest (adjusts for kids or adults)
Adjustable Aluminum Stem
Comfort Hand Grip
Requires Two 9 Volt Batteries (not included)
8 inch open face Waterproof Search Coil
Ultra-lightweight - 2.4 Pounds
5 Year Warranty
Made in USA
The Legacy 3300 model is feature packed yet offers turn on and go simplicity. This top model adds custom programming, a pinpoint mode and a manual ground balance adjust. This unit sets a new standard for value at this price point. The Legacy 3300 is light weight, well constructed and deep seeking. This model is easy to use and features intuitive controls. Features enhanced Target identification, Custom Programming, Ground Balance Control, Expanded Depth Reading, Large LCD Display. Great combination of quality, features and price.