Makro JeoTech Reviews, Price and Specifications
Deep Seeking Metal Detector
Retail Price: $2,599.95 (£1,600.00, €1,830.00)
Number of Reviews: 0
Be the first to review this item
Email to a friend.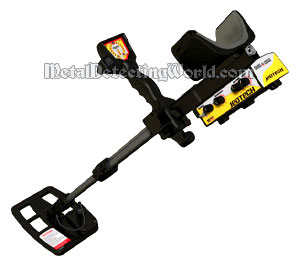 Specifications:
Operating System: VLF (Very Low Frequency)
Transmission: Sinusoidal Wave
Coil Frequency: 12-13 kHz
Metal Discrimination: Non-Ferrous / Ferrous / Steel + Cavity
Election of Ferrous: No
Depth Indicator: No
Audio tones: Polyphonic
Length: 38.5" - 55"
Weight: 5.2 Pounds
Search Coil: 8.5" x 12" D Coil
Audio Output: 2W
Headset Output: 1/4" or 6.3 mm + 3.5 mm Adapter
LCD: No
LED: Power LED
Comfort Joystick Grip Design
Easy to Understand LED Display
Advanced Micro-Processor Technology: just turn it on and start finding treasure.
Ground Balance: Manual
Sensivity Adjustment: Manual
Noise Canceling: Automatic
Threshold: Automatic
Memory: Ground Memory
Processor: Microchip
Battery Gauge: Yes
Battery Type: Lithium Polymer Battery
Battery Life: Up To 10 Hours
The JeoTech includes everything to get started:
Padded Carry Case
Deluxe Headphones
Rechargeable Lithium Polymer Battery
Wall Plug Charger
USA and European Wall Plug Connections
Detailed User Manual
Warranty Certificate
Car Charger
The Makro JeoTech Deep searching metal detector is designed to discover the gold, jewelry, valuable metals, coins, underground caves and cavities that others have missed. The Makro JeoTech is like two detectors in one, a deep two box detector and a traditional small object metal detector.
LED Identification System: use it when searching for coins, deep treasure caches under the earth, in walls and when searching slopes. The LED system will locate and identify treasures down to about 14 feet or 4 meters deep.
Advanced metal discrimination: targets are identified and divided into four distinct groups: valuable, non-valuable, steel and cavities. Jeotech is capable of receiving and analyzing multiple signals simultaniously.
The Makro JeoTech can locate valuable treasures that have been hidden beneath the earth in non metallic containers. While no detector can locate the precious stones, the JeoTech can locate the containers that they are buried in.
The ground balancing system allows you to use the detector in the harshest soil and ground conditions anywhere in the world. The JeoTech can even detect targets under rocks containing high levels of minerals (hot rocks). The JeoTech can be used along salt water coast lines, along beaches and in desert conditions. The JeoTech is not effected by environmental interference.