Makro JeoHunter Reviews, Price and Specifications
Deep-Seeking 3D Dual System Metal Detector
Retail Price: $6,499.95 (£4,012.00, €4,575.00)
Number of Reviews: 6
Avg. Rating (3.2 Stars)

Email to a friend.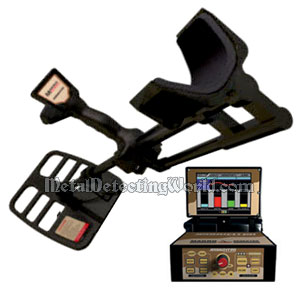 Specifications:
Small Head Search Coil for LED System 8.5" x 12" or 210 cm x 315 cm
Medium General Detection Head Search Coil 14" x 17" or 360 cm x 440 cm
Large Deep Search Head Search Coil 24" x 39" or 1000 cm x 600 cm
Professional Metal Detector Headphones
Leather Carry Case and Harness For LCD System
Cordura Nylon Carry Bag for Large Deep Search Head
Cordura Nylon Carrying Bag For Detector
LED System and General Detection Head
Rechargeable Lithium Polymer Battery
Universal AC Wall Charger, 100 to 240 Volts, 50 and 60 Hz
Car Charger
US and European Wall Plug Connections Included
Detailed Product Manual
The JeoHunter 3D Dual Metal Detector System is a complete system designed to meet all of your requirements for locating Gold and other precious targets at extreme depth. The system includes 3 different search coils. It is like owning three metal detectors in one. The JeoHunter 3D Dual System ships complete with the triple coil system. These coils will allow you to uncover Gold and precious metals deeper than any device has ever reached before.
The small coil will detect targets up to 12 feet or 4 meters deep. The small coil measures 8.5" x 12" or 210 cm x 315 cm. The medium coil will detect targets up to 25 feet or 8 meters deep. The medium coil measures 14" x 17" or 360 cm x 440 cm. The large coil will detect up to up to 40 feet or 12 meters deep. The large coil measures 24" x 39" or 1000 cm x 600 cm.
You can quickly and easily search and detect large fields with the Large Search Head. This search coil covers the greatest depths and allows you to cover large areas in the shortest amount of time.
The large search head punches down deep in to the earth for deep searching. It will find large Gold and valuable treasures and will ignore small non-valuable metal objects like nails and pull tabs. This coil will give the best results even in the toughest mineral conditions. Advanced target discrimination makes the Makro Deep Search Coil Head different from other brands of detectors that use large search coil heads.
The depths listed above are based on newly buried metal objects with no magnetic fields or effects formed yet. Over time, the metal object will oxidize and look larger to the detector, thus increasing the depths that are listed above. For objects buried longer, you can expect to go 3 to even 4 times deeper than the depth ranges listed in the chart above.
The medium search head being used above is just one of three Makro search coils that is included standard with the JeoHunter 3D System.
JeoHunter 3D Dual System comes with a unique 3D system as well as a very practical LED System. You can use the LED System when surface searching for coins, walls and slope searching. It is a fast and easy way of searching when you do not want to use the Large and the General Search Head. To the left side of the handle the LED panel will identify cavity signals. The right side of the LED panel you will identify metal signals. In addition to the LED System the user is able to detect metal and cavity signals through two different sound tones.
An Unhappy user for 3yrs
Guest in New Zealand -

From day one that I received my Jeohunter it has failed me in many ways. I did depth testing after proper grounding at 100% sensitivity and it was only average in its performance. Meaning other lower cost detectors picked up deeper gold nuggets with the same test. It no where near performs as advertised. Another very annoying problem I had was the target alert tone would sound on and not turn off even when I walked some distance from the original target. I had to then press reset and try to retest the original target spot but it mostly failed to even detect it again. This proved frustrating as I am a serious fossicker. I should have pushed the issue with the company before the warranty period was up. I have tried contacting the company a few times over this problem but received no replies as promised thus no solutions.
Nov 28, 2016
6 people found Guest's review helpful.
Deep enough although TOO heavy!
Ioannis in Greece,rhodes -

This machine is ok for 1500 euro and not the double they sell it for. It is very unstable and very heavy to work for a long time. Although, it can get big items at 6 feet like 30x30 or 40x40 cm, and it can predict the depth quite accurately. The type of metal being detected is not so accurate. One thing that impressed me was their service which was fast and free!
Jan 07, 2016
6 people found Ioannis's review helpful.
Absolutely User-UNFRIENDLY and Total Cr*p!
Mindaugas in Vilnus, Lithuania -

I was lucky to have a chance to try this "detector" under real conditions before considering its purchase. After having used Pulse Induction and VLF Deepseekers for years, I was unpleasantly surprised by impossibility to ground balance the Makro JeoHunter even over the low-mineralized soil. A heavy, big rectangular coil got me more frustrated because the coil's weight did not allow me to pump the coil over the ground for more than 5 minutes - my arm got quickly tired and almost "fell off"! I had to switch arms, but no ground balancing was achieved as the detector just did not balance! The ground balancing procedure with pumping the coil and simultaneous pressing buttons is just ridiculous itself! Eventually I had to move to a different search area to get the Jeohunter balanced. And even after that, the detector's performance was not even close to the manufacturer's exciting claims of incredible detection depth and other "wishful" features. For example, I tested the Makro Jeohunter over a known sizeable underground cavity, and the detector didn't register it as it was supposed to according to the user's instruction manual. Two smaller search coils from a package turned out to be useless as they couldn't detect targets deeper than a regular VLF metal detector. In addition to inaccuracy in identifying various targets, the Makro Jeohunter gave lots of false signals despite having been painfully ground balanced well. After a couple of hours of detecting with smaller coils, frequent rechecking the false signals would be physically hard to do because of the detector's cumbersome design, heavy weight and lack of maneuverability. And when two persons used a big rectangular coil, the falsing made the process totally idiotic and unproductive. Thus, the field time efficiency was practically at zero. I can say that this detector doesn't match any of two-box VLF metal detectors that cost times less! Nothing to say about PI metal detectors - real deepseekers (except the Bulgarian-made ones)! Everything, except the body-build, is idiotic about this Makro Jeohunter. Thank god I didn't pay lots of money to find out that this Turkish outdated "device" is total cr*p! Stay away from Turkish "Makro" and Bulgarian "Gold Fish" (and alike) deepseeker fakes!
Feb 21, 2015
21 people found Mindaugas's review helpful.
makro jeohunter 3d dual system
Mohammed Iqbal in India -

After using Whites DFX for a few years, now I am using Makro Jeohunter 3d Dual System. All the standard metal detectors are more or less useful to find coins, rings and small treasures. But I search for deep-burried treasures such as grave chambers or chests. Since I started using the Makro Jeohunter 3d Dual System, I have already found very interesting things that I could not pick up with conventional metal detectors.
Dec 07, 2014
6 people found Mohammed Iqbal's review helpful.
Jeojunter Battery Pack
Loui in USA -

Probably the whole system is good. However, the battery is really bad. Besides it is being bad, it is really impossible to get in the USA.
May 28, 2014
7 people found Loui's review helpful.
No Depth! (profondeur 0)
Karim in paris -

The depth of Jeohunter 3D does not exceed 60cm, forget 8m! It's impossible to operate Jeohunter 3D in the forest. And this detector sounds on any hot rock, so it's junk. Do not buy! (translated from the following: "la profondeur de jeohunter 3d ne dépasse pas 60cm pas 8m impossible de travailler dans une foret et ça sonne sur n'importe quel rocher donc c'est de la camelote! ne pas acheter!")
Jan 15, 2012
116 people found Karim 's review helpful.