Bounty Hunter Gold Reviews, Price and Specifications
All-Purpose Land Metal Detector
Retail Price: $500.00 (£310.00, €355.00)
Number of Reviews: 0
Be the first to review this item
Email to a friend.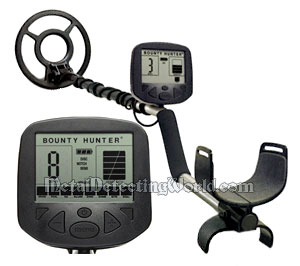 Specifications:
Transmit Frequency: 7.8 kHz
Numerical Category Target ID System
3 Tone Audio Target Identification
Levels of Adjustable Discrimination: 6
Discrimination by Categories
Single Notch Selectable by Category
Adjustable Sensitivity
Battery Life Indicator
Intuitive Menu System
Numerical Depth Readout
Headphone Jack
Rubber-Button Control Interface
1 Search Mode: Discrimination Mode
All Metals Motion Mode (2nd Derivative)
Preset Ground Balance
Concentric 8 Inch Open-Face Coil System
Locking Ring Coil Connector
Power Supply: One 9V Alkaline Battery (not included)
Adjustable Volume Control
Optional Arm Strap (Not Included)
Arc Stand Built Into Handle
Padded Arm Rest
Comfort Hand-Grip
Adjustable Aluminum Stem
Headphone Jack: 1⁄8″ Mini Jack
Length: 110-148 cm (adjustable)
Operating temperature range: 0° to +40°C
Operating Humidity range: 0-90%
5 Year Warranty
Discover coins, rings, jewelry and relics with the Bounty Hunter Gold. This is Bounty middle of the line metal detector. This model features both audio and visual target identification, preset controls, a depth reading and a jumbo LCD Display. This is one lightweight, well-featured machine that lets you do it all! Now you can hunt for hours at parks, historic sites, schoolyards or in the woods.