Bounty Hunter Platinum Reviews, Price and Specifications
All-Purpose Land Metal Detector
Retail Price: $579.95 (£358.00, €410.00)
Number of Reviews: 2
Avg. Rating (4.5 Stars)

Email to a friend.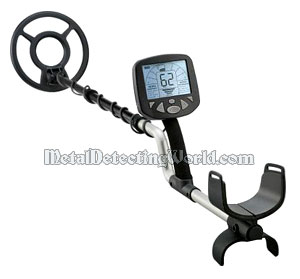 Specifications:
Operating frequency: 7.8 kHz
Jumbo 2 Digit LCD Target Readout
LCD Depth Display
Low Battery Indicator
No Motion Ground Grab
Push-Button Pinpoint Control
4 Modes of Operation
Computer Assisted Ground Balance
8 Inch Open Face Coil System
Numeric Depth Display
Progressive Discrimination
4 Tone Audio Discrimination
Sensitivity Adjustment
Adjustable Volume Control
Overload Alarm System
Arm Strap Included
Arc Stand Built Into Handle
Padded Arm Rest
Comfort Hand-Grip
Search Coils: 8" D-Tech (standard), 11" x 7" BiAxial (Pro package)
Power Supply: One 9V Alkaline Battery (not included)
Battery life: 25 hours
Adjustable 3 Piece Aluminum Stem
Headphone Jack: 1⁄8″ Mini Jack
Length: 110-148 cm (adjustable)
Operating temperature range: 0° to +40°C
Operating Humidity range: 0-90%
5 Year Warranty
Discover the oldest and deepest coins, rings, jewelry and relics with the Bounty Hunter Platinum. This is Bounty Hunters' top of the line metal detector. This model features both audio and visual target identification, custom modes, an expanded depth reading and a jumbo LCD Display.
The Platinum features a ground balance adjustment to eliminate the effects of minerals at the beach. This is one lightweight, fully featured machine that lets you do it all! Now you can hunt for hours at the beach, parks, historic sites, schoolyards or in the woods.
My first metal detector purchase
GK in Western Michigan,USA -

I am new to metal detecting. I spent a good bit of time researching reviews, pricing, etc. prior to purchasing my Bounty Hunter Platinum.
My choice was based on price/performance reviews. Bounty Hunter seems to be targeting the entry to medium level detector market. They seem to be doing so successfully, as they have been around a while.
I thought the package it was offered in was a good value, it included the detector and accessories such as headphones, case and recovery tools for $299.00.
My first time using the Platinum was in my backyard. It was just to become familiar with its operation and capabilities, without the expectation of finding much. Within one minute of ground balancing it, I located post 1982 penny in about 4 inches of heavy clay based ground which is like a rock a couple inches deep. I found several more coins - all clad, within a few minutes.
I have used it 3 times since for a total of 6 hours, at swimming and playground areas. I have found lots of clad coins, a Christmas bell charm with a small diamond and a 10kt gold band.
I am pleased with detector's performance, I can't compare it to another brand as it's my first. The ground grab feature seems to work well, its pinpointing is very accurate, the i.d. of targets is accurate and it is comfortable to use. I have as other users have, turned it off accidentally while pressing the pinpointing button.
After using it, I have no regrets, I still think it has a good price/performance value. As I use it more, and my capabilities improve, I am sure it will serve me well!
Jul 22, 2012
20 people found GK's review helpful.
About 10 hours on the machine
Charlives in usa -

I picked up the Platinum last week and spent hours air/garden/field testing it. Easy to run. Pinpoint is right on. I like the nomotion-all metal mode. The ground grab is easy but needs to be repeated at times as it seems to have problems "grabbing" some soils. Temperature changes seem to effect the machine. After a few min in a new environment it calms down. This machine is LOUD....but you can turn it down, unfortunately you have to do this at every start up. It is also very light. It only needs one battery but my first one lasted about 10 hours...which will end up being about the same as other MDs that get about 20 hours out of two. I inadvertently turned it off with my thumb because the pinpoint and power buttons are too close. Not a big deal. All in all, it is a workable machine that I would classify as intermediate. Very good for the price.
Jul 27, 2011
33 people found Charlives's review helpful.