Garrett Master Sound Headphones Reviews, Price and Specifications
Headphones for Treasure Hunting
Retail Price: $29.95 (£18.00, €21.00)
Number of Reviews: 3
Avg. Rating (3.0 Stars)

Email to a friend.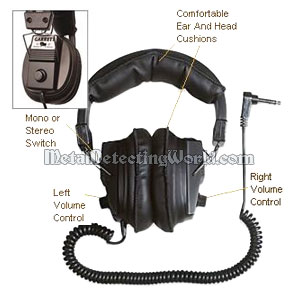 Specifications:
Built, field tested and approved for use with all types of metal detectors
Efficient, wide dynamic audio range speakers enhance weak signals
Dual volume controls for adjusting signal levels to suit individual hearing requirements
Comfortable leather headband and ear cushions for maximum comfort
Reinforced 10-foot coiled cord with right angle, 1/4-inch stereo phone plug
Speaker impedance: 8 ohms per channel. Mono/Stereo
Frequency response: 30-18,000 Hz
Poor Quality
Bolldozer in Alberta -

Right from the start, the one side would only work intermittently. I soldered the connection to the volume pot, and that fixed it. The fit adjustment doesn't stay where you leave it, so I had to tape it up. I didn't buy these, they came with my detector, but I would not recommend them to anyone.
Apr 01, 2013

Good set for the money
Paul in Republic of Panama -

They're a good set for the money, providing good audio, and you can adjust volume. I had no problem hearing signals for coins buried at 10 and 12 inches deep.
On occaision, I had to adjust the head band towards the back top of my head for better fit, not a big deal to me.
When I lost an ear cuff, I contacted Garrett to purchase another. I was blown away when they sent me new headphones at no charge!
For what you pay, it's a great value and you can buy these for less at major detector dealers.
Jul 29, 2012

Not So Hot
Ron M in New Mexico USA -

These are my first detector headphones so I can't give you my opinion on sound quality. The problem is the size adjustment, the positioning springs won't stay where I put them for a correct fit. They slide to maximum so the ear pieces sits too low. Maybe I can make them work with a hat.
Mar 14, 2012