Scanmaster Gold Reviews, Price and Specifications
Budget All-Purpose Land Metal Detector
Retail Price: $112.00 (£69.95, €80.00)
Number of Reviews: 0
Be the first to review this item
Email to a friend.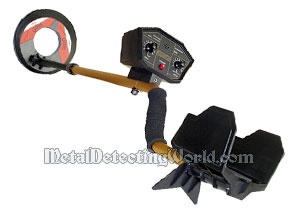 Specifications:
Operating Frequency: 5.5 kHz
Sensitivity depth adjustment
Pinpoint Button
Waterproof 21cm Polo Coil
Built in speaker with clear tone
Battery level indicator
Hidden coil cable, inside stem
3.5mm Headphone jack socket
Improved microprocessor controlled
Simple set up and go operation
Lightweight Weight: 1.2 kg (2.4 lbs)
Length: 108cm -129.5cm (Adjustable)
Batteries: 2 x 9v
Warranty: 1 Years
The Scanmaster Gold is a great, high performance detector in the budget range. The Scanmaster Gold has great depth capabilities with accurate target signal and discrimination. The target pinpoint button allows any potential find to be pinpointed with ease. This detector can be used with headphones or without thanks to the built in speaker and clear speaker tone from Scanmaster.
The coil cable is hidden in the stem of the detector for extra convenience and ease of detecting. This lightweight detector is very easy to set up and the new improved microprocessor controlled technology makes detecting easy and accessible to all of the family.
The Scanmaster Gold is a robust budget detector with a great search depth and target pinpointing capabilities. The new improved microprocessor controlled Scanmaster Gold is at the top end of the budget detector range. Lightweight and easy to set up, the coil cable is stowed away inside the stem during use for ease and convenience when detecting.