Bounty Hunter Discovery 1100 Reviews, Price and Specifications
All-Purpose Land Metal Detector
Retail Price: $230.00 (£143.00, €160.00)
Number of Reviews: 0
Be the first to review this item
Email to a friend.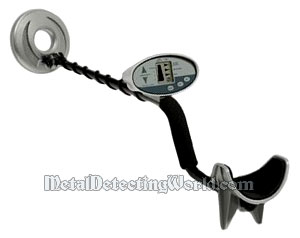 Specifications:
Operating Frequency: 6.7 kHz
Digital Three-Segment Target ID: Identify buried target
Digital Coin Depth Indicator: Identify depth of target
Three-Tone Audio Feedback: Tool for target identification
One-Touch Depth Select Control: Adjusts sensitivity to targets
Push-Button Discrimination Mode: Eliminates junk
7" Interchangeable, Waterproof Coil: Detects in shallow water
Lightweight, Ergonomic Design
Operates on Two 9-Volt Alkaline Batteries (not included)
Battery life indicator
Visual Target System: LCD Display
Preset Ground Balance: Neutralizes response to ground mineral content
Modes of Operation: Motion all-metal and progressive discrimination
Audio Feedback: Internal speaker or headphones (not included)
Headphone Jack: Compatible with most headphones
Lightweight: 1.07 kg (2.14 lbs)
Length: 114cm - 131cm (Adjustable)
Warranty: 2 Years
The Discovery 1100 features adjustable tones to allow different types of metal to be discriminated by sound. The Discovery 1100 also has a simple one-touch depth control and an easy to follow LCD display. One mode rejects most junk objects while another detects all metals including iron objects that would normally be rejected in the discrimination modes. The Bounty Hunter Discovery 1100 model has been replaced by the new Bounty Hunter Legacy 1500 metal detector.