Bounty Hunter Discovery 3300 Reviews, Price and Specifications
All-Purpose Land Metal Detector
Retail Price: $440.00 (£274.95, €315.00)
Number of Reviews: 1
Avg. Rating (5.0 Stars)

Email to a friend.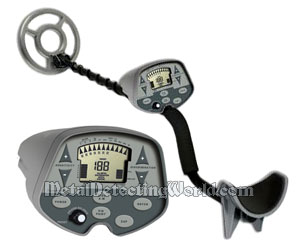 Specifications:
Operating frequency: 6.7 kHz
Digital 11-Segment Target ID: Identify buried targets
Digital Coin Depth Indicator: Identify depth of targets
Digital Target Value: Accurately identifies target based on numeric value
Four-Tone Audio Feedback: Audible tool for accurate target identification
Touch Sensitivity Control: Reduces electromagnetic interference
Touch Discrimination Control: Eliminates unwanted targets
Pinpoint Mode: Allows for accurate detection
One-Touch "Zap": Immediately eliminate unwanted metals
Ground Balance Control: Manually offset the minerals in soil and the effects of salt water
8" Interchangeable, Waterproof Coil: Detects in shallow water
Lightweight, Ergonomic Design: Provides ease-of-use and comfort.
Operates on Two 9-Volt Alkaline Batteries (not included)
Low Battery Indicator
Visual Target System: LCD Display
Preset Ground Balance: Neutralizes the response to ground mineral content
Modes of Operation: Motion all-metal, progressive discrimination, notch, and pinpoint
Audio Feedback: Internal speaker or headphones (not included)
Headphone Jack: Compatible with most headphones
Lightweight: 2.6 lbs (1.09 kg)
Ergonomic: Adjustable height, padded armrest, S-rod system, detector stand
Length: 114cm - 132cm (Adjustable)
Warranty: 2 Years
The Discovery 3300 metal detector has all of the features a detectorist will need. The simple, one touch discrimination and pinpoint mode for accurate locating make it great for beginners. The waterproof search coil allows the user to access targets and items under water, giving a wide range of area to search. 11 segment digital target identification and 4 tone audio feedback provide identification of buried objects.
This model is equipped with a 1/4 " headphone jack compatible with most headphones. In addition, a preset ground balance that neutralizes the response to mineral content in the ground.
Bounty Hunter Discovery 3300
Timo in cleve, australia -

Awesome value from a quality and easy to use product. You want discrimination, you got it, you want identification of metals, you got it, you want pinpoint accuracy, you got it. 5 stars from me.
Jul 22, 2011
23 people found Timo's review helpful.