Fisher CZ-20 Quicksilver Reviews, Price and Specifications
Underwater/Surf/Beach Metal Detector
Retail Price: $1,245.95
Number of Reviews: 1
Avg. Rating (5.0 Stars)

Email to a friend.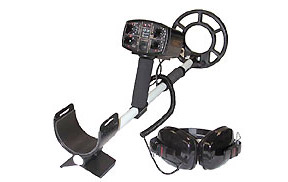 Specifications:
Submersible to 250 feet
Three-tone, audio target I.D.
Visual target response: two bright-red LED's
Dual-Frequency Fourier Domain signal analysis
Silent-search, VLF, slow-motion discrimination
Super-hot, wide-scan, all-metal autotune mode
Pushbutton, VCO no-motion pinpointing
Big-target alert
Increased depth in mineralized soil
Wet-sand operation
Faint-target audio boost
Pushbutton ground balance
Separately sealed battery compartment
8-inch open-center Spider coil, 10 1/2-inch open-center
Spider coil or a hot, little 5-inch coil
Removable control housing (on your belt or on detector stem)
Turn-on-and-go, pre-set control marks
Weights 5.7lbs with Batteries
Lifetime Warranty
SUPER Machine!
Brad Andrews in Somerset, Indiana USA -

I've had mine for about ten years now. I've put endless hours on it (way over 1000) and hunted just about everywhere and in every type of situation and conditions with it. It's never failed me. This machine serves up great depth, great descrimination ability, and the multiple tone system makes learning to use it a breeze. Another big plus is the belt attachment system. It's quick and easy and sure is easier on the arm, hand, and shoulder when out on an all-day hunt. Land, beach, water, this machine handles it all and in every possible situation. I've even found tiny gold nuggets with it. I've used and tested a lot of units but my CZ-20 is still my machine of choice, and I'm far from an amateur. I've been metal detecting with an endless passion for more then 20 years now. I highly recommend this detector.
Jun 02, 2010
46 people found Brad Andrews's review helpful.