Fisher Gold Strike Reviews, Price and Specifications
Gold Nugget/Prospecting Metal Detector
Retail Price: $899.00
Number of Reviews: 4
Avg. Rating (4.5 Stars)

Email to a friend.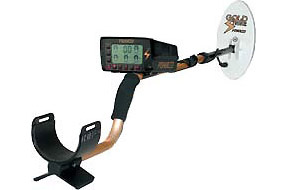 Specifications:
Auto-ground Balance System Operating At 30 kHz Frequency
Fast, Automatic Ground Tracking
Extreme Accuracy On Iron Discrimination
Innovative 2-Tone Audio System (Simultaneous All-Metal And Good Target)
Two Search Modes- All Metal And Discriminate
Turn on and Go, Last-settings / Favorite-settings
LCD Backlight
Weight: 3.3 lbs
Audio Alert For Low Battery And Large Targets
10" Elliptical Water Proof Coil
Batteries: (2) 9V Transistor
Batteries Life Expectancy: Alkaline (25-35 hours)
Automatic "Hot" Rock Elimination
3-Piece Breakdown Handle
Lifetime Warranty
Different Sounds
Ron in Montana -

The Gold Strike was originally made to replace the Gold Bug II, but the way Fisher setup the new system of sounds and settings for the machine, it really did not catch on with Fisher fans even though it will find more gold than the New or old Fisher Gold Bugs because of its ability to eliminate hot rocks. And it also has manual and automatic ground balance. This is one hot machine and I really like using it when I go Nugget shooting. I purchased mine used and consider it a real bargain!
Feb 22, 2016
1 people found Ron's review helpful.
Excellent machine
Rick in Pacific Northwest -

I also purchased my machine used. They were discontinued because no one really liked the tone system setup, but once you learn how to use this unit, it does a very very good job at finding gold and anything else you are detecting for in your hunting area! I was pleasantly surprised when I started hitting a lot of good targets with this unit. Also the Fisher has a very long battery life that I appreciate. If you can find one of these used, it is a great gold detector and worth a look!
Jan 23, 2016
0 people found Rick's review helpful.
The Fisher Gold Strike GMT twin
Fletch in Alabama USA -

I have currently 3 MD's. The Fisher Gold Strike, Whites GMT and Minelab Explorer XS. The best thing about the Gold Strike is that it's much more versatile than my GMT. It's every bit the gold finder. Great discrimination. BACK LIT screen.
FORGET ALL NEGATIVE REVIEWS! I have owned many many machines over the last 38 years. If I didn't have my Gold Strike, I would have to buy two other machines to take its place. But you can't swing two at a time. Let me be blunt. I no longer buy Fisher machines simply because they dropped their best machine - GOLD STRIKE!
Aug 06, 2015
3 people found Fletch 's review helpful.
WoW Simply Amazing
Fletch in Alabama -

I'm 54. Used many White's machines and several Garrets. The Gold Strike was my first Fisher. I bought it used cheap. Whenever I take my GMT, I always take the Gold Strike. When I Take the Gold Strike, I don't always take the GMT. If I could only have one VLF metal detector, it would be Fisher Gold Strike. Dual tone, 30khz perfect for everything and excellent on gold. The GMT is better on gold just because it is easier to use.
Jul 12, 2015
4 people found Fletch 's review helpful.