FiberComp Scoop/Digger Reviews, Price and Specifications
Non-Metallic Recovery Tool
Retail Price: $14.95 (€10.00)
Number of Reviews: 0
Be the first to review this item
Email to a friend.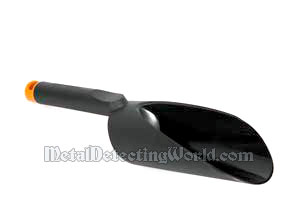 Features:
FiberComp construction
Lightweight, durable nylon/fiberglass composite (wont rust!)
Size: 11.5 inches total length
Scoop size: 6x3x2.5 inches
The FiberComp Scoop/Digger is perfect for digging in loose soil or light beach sand that is very light and strong because of its FiberComp construction. One piece construction means no loose handles and it will not bend at the neck when digging. This is the only small nylon and fiberglass composite digger that can hold and dig more soil or sand with each scoop.