D-Handle Shovel Reviews, Price and Specifications
Treasure Hunting Digging Shovel
Retail Price: $64.99 (€46.00)
Number of Reviews: 0
Be the first to review this item
Email to a friend.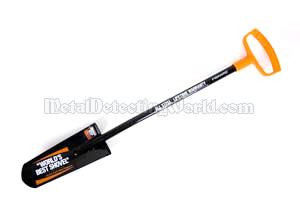 The tall, pre-sharpened, curved blade will quickly dig deep holes so you can easily recover those deeper coins and relics.
The oversized D-Handle provides ample space for both hands and the Teardrop shaped shaft for more hand comfort.
Includes a built-in oversize foot step for easy secure digging.
You will also like the very competitive price plus this shovel comes with a Pro-Series lifetime warranty to the original owner.