Garrett EuroACE Reviews, Price and Specifications
All-Purpose Land Metal Detector
Retail Price: $349.95 (299.00 �)
Number of Reviews: 0
Be the first to review this item
Email to a friend.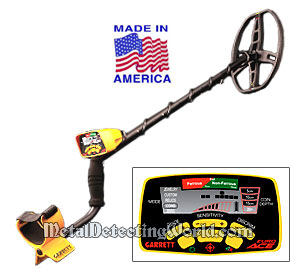 Specifications:
Operating Frequency: 8.25 kHz
Powerful, large 28 x 22cm PROformance Double-D searchcoil
Enhanced Iron Resolution allows more control of iron discrimination levels; helps separate good targets from adjacent junk iron.
Improved Audio Tone ID optimized to indicate distinctions between ferrous and non-ferrous targets.
Higher Frequency Offers improved ability to detect small conductive targets (hammered coins, nuggets)
Volume-control headphones: Garrett's ClearSound Easy Stow headphones are included with the EuroAce.
Electronic Pinpointing to speed target recovery
Accept/Reject Discrimination to modify discrimination patterns
Five Search Modes: select pre-set discrimination pattern or create your own
Continuous Coin Depth Indicator to determine target depth
Battery Condition Indicator shows battery life continually
Interchangeable ACE series searchcoils are available
Pushbutton Controls with One-Touch operation
Compared to ACE 250 and ACE 150
Search Modes (Discrimination Patterns): 5 plus electronic pinpointing
Jewelry
Coins
Custom
Zero
Pinpoint
Target ID Cursor Segments: 12
Iron Discrimination Segments: 6
Accept/Reject Discrimination: Yes
Search Modes: 5
Sensitivity/Depth Adjustments: 8
Electronic Pinpointing: yes
Audio Tone ID Levels: 3
Standard Searchcoil: 28 x 22cm DD PROformance
Length (Adjustable) : 1.06m - 1.29m (42" to 51")
Total Weight: 1.27 kgs. (2.8 lbs.)
Batteries: 4 AA (included)
Includes:
28x22 cm PROformance DD submersible searchcoil (as shown)
Garrett ClearSound Easy Stow Headphones (with in-line volume control)
Warranty: 2 Year, Limited Parts/Labor
This detector includes the best features of the world-famous ACE 250 but adds a powerful new DD searchcoil, enhanced iron discrimination and a higher frequency.