Garrett AT Pro International Reviews, Price and Specifications
All-Purpose Land Metal Detector
Retail Price: $699.95 (€550.00)
Number of Reviews: 4
Avg. Rating (5.0 Stars)

Email to a friend.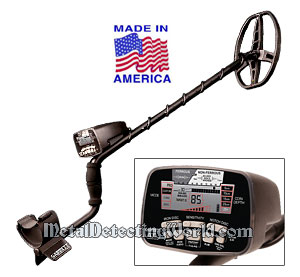 Specifications:
15 kHz operating frequency: improved detection of small targets, gold nuggets, jewelry
Pro Mode Audio: Proportional Audio and Tone Roll Audio features allow the user to hear characteristics of a target as they would in a True All-Metal Mode.
High-Res Iron Discrimination: Use touchpads to set iron discrimination in one of 40 levels for precise ability to separate good targets from trash.
Digital Target ID: 0 to 99 Target ID scale offers increased ability to distinguish one target's conductivity from another.
Iron Audio: Allows the user to hear discriminated iron and to alter the detector's mid-tone signal's range
Fast Recovery Speed: Allows greater ability to pick out good targets amongst trash
All Terrain Versatility: Weatherproof housing designed for dusty, humid or wet environments; unit can be submerged to a maximum 10-foot depth.
Ground Balance: automatic and manually adjustable for improved performance
Graphic Target Analyzer (GTA): identifies target's conductivity
Continuous Coin Depth Indicator: to determine target depth
Battery Condition Indicator: shows battery life continually
Target ID Cursor Segments: 12 (notchable)
Iron Discrimination Segments: 40
Accept/Reject Discrimination: Yes
Search Modes: 6 (3 Standard, 3 Pro modes) plus electronic pinpointing
Sensitivity/Depth Adjustments: 8
Electronic Pinpointing: Yes
Audio Tone ID Levels: 3
Standard Searchcoil: 8.5" x 11" DD PROformance
Length (Adjustable): 1.06m - 1.29m (42" to 51")
Total Weight: 1.4 kgs. (3.03 lbs.)
Batteries: 4 AA (included)
Warranty: 2 Year, Limited Parts/Labor
Searchoils:
8.5" x 11" PROformance DD submersible searchcoil $159.95 (U.S.)
9" x 12" PROformance concentric searchcoil $139.95 (U.S.)
6.5" x 9" PROformance concentric searchcoil $119.95 (U.S.)
4.5" Super Sniper searchcoil $109.95 (U.S.)
The AT Pro is engineered with a waterproof housing and connectors to protect in dusty, muddy, wet and humid environments. The AT Pro can be immersed in water to a 10-foot depth (maximum) to search in and along shorelines, rivers, piers, docks or swimming holes, as well as all land sites from mountains to dry deserts. AT (All-Terrain) can be used anywhere on land or in water.
Great detector
DWL in Richmond VA -

Pulling pennies out at 14-18 inches at Myrtle Beach. Wish the scale on the detector was more than 10+.
Sep 09, 2015
2 people found DWL's review helpful.
Not deep my donkey's a__!
Common Sense Glenn in myrtle beach, sc -

Myrtle Beach S. C. 12/26/14 with my AT Pro. Pulled a 1943 dime out of a 23-inch hole beside a rusty screw. Same hunt, penny at 8". Same hunt, 2 quarters out of 2 different holes at 11" on one and 4" on the other. IT AIN'T WHAT YOU GOT, IT'S HOW YOU USE IT. By the way, I was following a gentleman with an E-Trac and 3 others ahead of him that I don't know what they were using.
Dec 30, 2014
9 people found Common Sense Glenn's review helpful.
My veiw
Chris in mass -

Great detector hands down. I felt I needed more from my older White's Prism 4 and picked this up. Best move I made. Everything that says is under the coil is, and it's right on depth, pinpointing, not to mention the high res iron disc: less trash more goodies. If you want a top of the line detector and can't afford a couple of grands, this is the one keeps up no problem. Not to mention waterproof: go from land to water salt or fresh right then and there is no need for 2 machines. Great detector!
Jun 02, 2013
24 people found Chris's review helpful.
Mike in Virginia Beach, VA
Mike Tomicich in Virginia Beach, Va USA -

Fantastic machine. Started out with an Ace 350. The AT Pro is a very sensitive machine. Very small targets found to 12 inches. Deeper for coin sized targets. Ground balance is either manual or automatic. Easily able to rebalance for searching in or near the ocean as well as in dry sand.
May 21, 2013
24 people found Mike Tomicich's review helpful.