Fisher Gold Bug DP Reviews, Price and Specifications
Gold/Relic Metal Detector
Retail Price: $749.00 (€531, £460)
Number of Reviews: 4
Avg. Rating (4.5 Stars)

Email to a friend.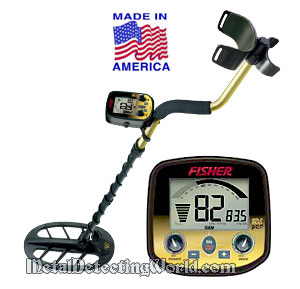 Specifications:
Operating frequency: 19 kHz, crystal controlled
Operating principle: VLF induction balance
Big Easy-To-Read LCD Display
Extraordinary sensitivity to tiny gold nuggets
Multi-purpose more than just a gold machine
Unmatched target separation in iron trash
High-end performance at a mid-range price
No-motion pinpoint with depth indicator
Manual and computerized ground balance
Continuous ground conation readouts
Ground phase
Ground mineralization
Threshold and gain adjustment
Signal Strength Indicator
Two Ground Balancing Options-Computerized Ground Grab and Manual
Continuous Ground Condition Readouts
2-Tone VCO Audio
Target ID
Signal Strength Indication
On/off power and Gain control
Mode selection control
Pin Point control
LCD battery indicator
Dual headphone jacks: 1/4 and 1/8 inch
High Powered 11" DD Search coil
Optional deep-seeking 5" DD Coil
Ultra Lightweight: 2 Ibs, 8 oz with battery installed
3-pole system
Comfort Hand-Grip
Arc-detector Stand
Mechanical: S-rod with electronics housing on rod, 3-piece breakdown construction, nonmetallic telescoping lower rod, adjustable position arm rest
Ground balance range: From ferrite to salt water inclusive
Operating temp range: 14 to 122 degrees F (-10 to +50 °C)
Batteries: Single 9 volt rectangular alkaline
Battery life: 15+ hours on good quality alkaline
Standard searchcoil: 4.7 inch (12.3 cm) closed-frame round biaxial, waterproof
11" DD elliptical waterproof
5 Year Limited Warranty
Not so hot for goldfields
Lee Mazengarb in Australia -

On the beach, it's so so, didn't like wet sand. Didn't like wet sand say 4 inches below the surface either.
Now out at the goldfields, both in NSW and Victorias golden triangle. No luck. Found the odd bit of junk and trash as expected. No gold at all. Now in thinking with gold is where you find it, then that's a fair statement. Highly likely there was no gold to find in the locations I went to over many weekends and 1 week long trip through the goldfields of Victoria. Now getting down to ittygritty, bought some small gold nuggets and air tested this detector. 1g nugget at about 2 inches. 2.3g nugget at 4 inches. Now this is air testing from the coil. Allow 1 cm or 2 in height, then it doesn't leave you much. Not sure on bigger nuggets, coins it detected to about 6 inches to 8 inches. That's not good in my book. My pioneer 505 matched it in air tests on the gold and beats it to 11 inches on the coin. Got a larger coil for it as an experiment. No better. So all in all, programming wise, with all the target identification, it is exceptional. Just depth is disappointing. And depth is the whole game in metal detecting. In Discrimination mode, the Sensitivity was a little less then in All Metal mode. Although in all metal mode it seemed sensitive to hot rocks and iron with very hard to differentiate between actual targets unless they were shallow or large. Larger coil didn't improve things for the gold either. Maybe for the coin. Might have to try a small 5-inch coil instead. Still testing this detector out, will be testing it in a test bed of mineralised soils with the nuggets and putting it on utube. I did watch a utube minerilised soil test that didn't show it to be a good detector, thought he might have tested it wrong, maybe not. That's what you get for buying on a name and hype.
Apr 07, 2013
14 people found Lee Mazengarb's review helpful.
Very Pleased
BK in USA -

I'm new to the hobby and purchased the Gold Bug to use in Arizona gold fields. I found it easy to use and understand. Hot rocks were not too difficult to get the hang of, and it's done a great job relic hunting back in Texas. I would really recommend it to anyone looking for a great machine at a good price.
Aug 21, 2012
10 people found BK's review helpful.
Great bang for your buck
Frisky Dingo in Pine Falls, MB Canada -

Super smooth machine consistantly picks up small targets deep for a VLF machine. It runs smooth in both all-metal and discrimination modes. The five year warranty shows it is well built. I personally think it's also a better coin shooter/relic hunter than a certain other multi-purpose machine in the same price range.
Jul 17, 2012
5 people found Frisky Dingo's review helpful.
They should call the Gold Bug Pro the beast pro
W Webster in yonkers ny -

On my first day at the beach, using the Gold Bug Pro, I found a gold charm. The next day I found a child's gold ring, the next day a gold earring, next another gold pendant, and then a man's gold ring 22k. The Gold Bug Pro or dp is a gold finding monster!
Apr 24, 2011
34 people found W Webster's review helpful.