Lorenz LP5 Reviews, Price and Specifications
Pulse Induction Deepseeking Metal Detector
Retail Price: €3.000 ($3.800)
Number of Reviews: 0
Be the first to review this item
Email to a friend.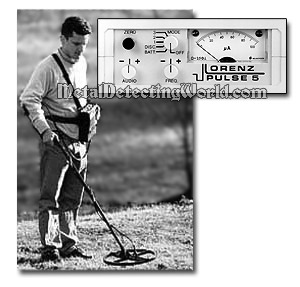 Specifications:
The Lorenz LP5 or Lorenz Pulse 5 can be used for many different search and location applications like the detection of coins, metal fragments or barrels at detection depths of several meters.
Electronic unit with leathercase: 23 x 17 x 7 cm (2,3 Kg)
1m x 1m PVC-frame coil (disassembled): 110 x 15 x 15 cm (2,5 Kg)
Telescopic pole with armrest min/max length: 100 / 126 cm (0,5 Kg)
Carrying case with standard equipment: 40 x 30 x 16,5 cm (5,4 Kg)
Operation frequency:
small/large coils connected - 1300/700 pulses per sec.
Audio frequency: Voltage controlled oscillator: 0-13000 Hz
Battery: built-in 12 V / 3 Ah NiMh rechargeable battery
Battery Life: approx. 8 - 12 hours depending on temperature and coil connected
Battery charger: Rapid charger with interchangeable AC-plug (96 - 264 V) for worldwide operation
Recharge time: max. 2,5 h on empty battery
Searchcoils: electrostatic insulated (shielded), waterproof, A wide range of searchcoils are available as accessory. Different sized frame mounted searchcoils can be easily made from PVC pipes and the universal cablecoil (accessory).
Frequency control: The preset operation frequency can be altered to reduce interferences produced by powerlines or transmitters.
Blue light discriminator - indicates that a new conductivity meter reading is stored and displayed on the meter.
Low Battery Alert: red light indicator comes on when the Battery is discharged.
Meter indications for:
Battery condition
Conductivity meter reading
Intensity/signal strength
Lorenz LP5 responds very sensitively and precisely to small non-ferrous metal objects like coins for example. Small unwanted metal objects such as nails can be eliminated with three different delay settings. While searching for large and deep targets with frame mounted searchcoils, small unwanted items will be eliminated automatically.
The maximum detection range of a 40 x 40" (1 x 1 m) frame mounted coil is 18 feet (5.5 m) and can be increased to 26 feet (8 m) when enlarging the frame to 80" x 80" (2 x 2 m).