Fisher Gold Bug 2 Reviews, Price and Specifications
Gold Nugget/Prospecting Metal Detector
Retail Price: $849.95
Number of Reviews: 1
Avg. Rating (5.0 Stars)

Email to a friend.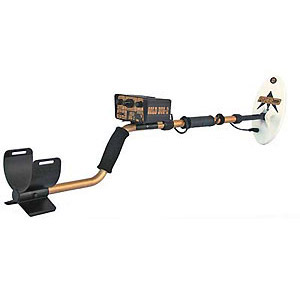 Specifications:
Powerful 71 kHz operation for extreme sensitivity to small gold nuggets
Advanced ground rejection circuitry for increased depth on large, deep nuggets in highly mineralized soil
"Iron Disc" mode for hot rocks and iron identification
Three auto-tune modes with two re-tune speeds
Dust and moisture resistance design
Faint-target audio-boost mode
Disc, Normal and Audio Boost modes
High, Normal, and Low mineralization settings
Converts to hip mount
Weight: 2.9 pounds
Quartz-crystal locked electronics
Only two drop-in batteries (2-9V batteries)
Standard, 10-inch, shielded, waterproof elliptical search coil
Optional 6.5 and 14-inch elliptical search coils
Dual-knob, coarse/fine manual ground balance adjust control
Built-in Detector stand
Resist dust and moisture with sealed control housing
stereo-mono input jack with removable weather seal
5 Year Limited Warranty
GOLD BUG 2 FINDS THE
David4Gold in Forest Grove, Oregon USA -

I have owned a Fisher Gold Bug 2 metal detector for about a year now. I had almost no experience with a metal detector until I got bit by the "gold bug" at a local gold show in March 2008 and realized that one of the many "treatments" that would be required to co-exist with "the fever" would be a decent quality gold detector. After a lot of researching, I decided on the Fisher Gold Bug 2 based on the specifications, the history of success of its predecessor – the original "Gold Bug" – as well as the fascinating, and somewhat tragic, history of the Fisher family. In my experience, the Gold Bug 2 is a great metal detector for a beginner gold hunter and I have seen a lot of old-timers with them out in the field so they are popular with experienced miners as well. The controls are few and very intuitive so I believe that pretty much anyone can become a competent detectorist in about an hour or so of focused practice with the easy-to-use GB2. Once I understood the concept of "ground balancing" and what each of the GB2's controls modulate, balancing became second nature and now it normally takes less than 30 seconds to tune it in the field. After a fair amount of field use and a lot of testing time at home, my only negative comment would be that the Iron Discrimination works almost too well in that it eliminates so many false readings that it occasionally "over-laps" and filters out small to tiny pieces of gold. I am still hoping to learn to discriminate the tones better so that I won't have to use the Iron Discrimination feature as often. Obviously it is not a top-of-the-line machine (But then... $800 for a GB2 vs. $4,500 for a Minelab...) but IMHO it is well worth the investment as a reliable and productive gold detector. (To be completely honest, I am planning to upgrade to a Minelab when my finds with the GB2 justify the expense. But that fact shouldn't take anything away from the merits of the GB2 as it does what it was designed to do; both very well and very affordably. A nice added feature, that I would be willing to pay for if available, would be some type of visual signal. I know a video monitor would add too much to the cost for the GB2's target market, but even a simple gauge with a needle would be appreciated. Nothing in life is perfect but the Fisher Gold Bug 2 comes close for its price and performance. A great value for the money, in my opinion.
Mar 23, 2009
238 people found David4Gold's review helpful.