Hybrid Cobra Wader Reviews, Price and Specifications
Beach & Land Metal Detector
Retail Price: $799.95
Number of Reviews: 0
Be the first to review this item
Email this page to a friend.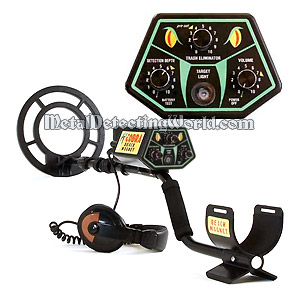 Specifications:
• Operating Frequency: 12.5 kHz
• Fully automatic tuning
• Fully automatic ground balance
• Full range VLF discrimination
• Controls:
On/off Volume Control. Set for comfortable audio response when detector locates a good target.
Detection Depth Control. Set at minimum to max (10) to push signal into the ground.
Adjustable Trash Eliminator. Use to reject and tune-out unwanted junk and trash.
• Target indication light
• Low battery warning tone
• Batteries: 12 volt AA battery system for 8 AA batteries
• Standard lightweight headphone that is splash proof but NOT submersible.
• Control Unit is splash proof but NOT submersible
• Search Coil: 10" open Cobra Max coil can be submerged
• High strength powder coated aluminum rods
• Fully adjustable rod with cam-lock
• Padded arm rest
• Maximum extended length of 49 inches
• Minimum dive length of 37 inches
• Weight: 4.5 lbs.
• 5 Year Limited Warranty