Nokta Golden King DPR Plus Reviews, Price and Specifications
Deep Penetrating Radar Detection System
Retail Price: $7,599.95
Number of Reviews: 3
Avg. Rating (3.7 Stars)

Email to a friend.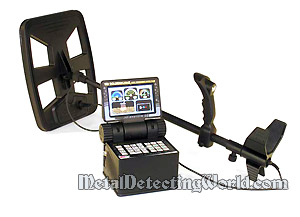 Specifications:
Golden King DPR Plus presents Smart Detection Technology enables you to see your signals translated instantly into a clear graphic of your target area, and get all the information you need about your search area at the touch of a button. It is the only system in the world to process images of its targets in REAL-TIME as they are discovered. This machine easily identifies a single gold target.
Systems Box: Contains all electronics with 7" TFT screen
Deep Search Head: Strong high-impact ABS non-twist plastic 24"X39"
General Detection Head Hi-Impact Non-Twist ABS plastic 14"X17"
Electronic Shaft (Joystick) with arm rest and stand
Camera with full capacity for daytime and nighttime use to 100 Ft. (30Mt.)
Gas Sensor: Safety factor for Methane Gas in caves, Crevices, Tunnels, etc.
Headphones: Full Sound with volume control. Padded headband for comfort
Lithium-ion battery: Lighter, longer lasting performance
Universal AC Wall Charger, 100 to 240 Volts, 50 and 60 Hz, includes USA adapter
Car Charger 12 Volts
Leather carrying harness for System Box
Cordura Nylon carrying bag, double zipper, reinforced carrying handle (For Deep Search Head)
Cordura Nylon carrying bag for all equipment
The Best !
G. Vaughn in Nevada City, Calif. USA -

There are a few negative reviews out there about this detector and I think those people either can't afford one or they just don't want other people to buy one because they are so good. Out of 5 times I have been out with mine, I found 3 nuggets that paid for the price of my detector, but you have to go where the gold is. Plus this has to be one of the easiest detectors to use on the market. I bought a Minelab SD 2200 v2 before I bought the Nokta and my wife uses the Minelab now. I just wish I would have bought this a long time ago. It is nice to see on the screen what you have, the size, shape, and at what depth before you even start digging. It takes all the guess work out of what you are digging!
Jun 17, 2012
24 people found G. Vaughn's review helpful.
Very Good Metal Detector
M Suleman in london uk click4me20@hotmail.com -

This is the best of all detectors. Light weight and more output.
Dec 28, 2010
30 people found M Suleman's review helpful.
Ata Turk
Sebastian in Germany -

I have used the Golden King made by Nokta. It is like a toy. It is the same as Ata Turk but more heavy and without any results.
Dec 24, 2010
67 people found Sebastian's review helpful.