Bounty Hunter Pioneer 501 Reviews, Price and Specifications
All-Purpose Land Metal Detector
Retail price: $349.95
Number of Reviews: 1
Avg. Rating (5.0 Stars)

Email to a friend.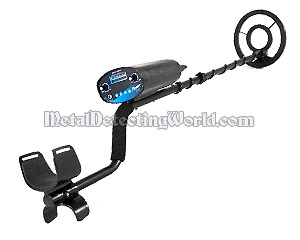 Specifications:
Operating frequency 6.8 kHz
Deepest Seeking Detection: detect large objects up to 5 feet deep, coins up to 11 inches deep
3 Modes of operation:
Motion All-Metals
Discrimination
Notch
Automatic Ground Balance: automatically scans the soil in the Motion Modes and continuously adjusts to changing soil conditions.
4 Level, Progressive Iron Discrimination: tune out small ferrous items while still detecting valuable iron relics and collectibles.
Target Identification
Change modes quickly and easily
3-Tone Target Identification - different types of metals induce different tones:
Low tone for iron, nickel and small gold
Medium tone for zinc, large gold and most trash
High tone - silver and copper
Full Discrimination and Notching Capability: Disc/Notch control allows user to detect or reject a range of metals. You decide what to detect and which unwanted metals to ignore.
Weight: 2.8 lbs.
Batteries: 2 x 9 Volt batteries (not included)
Warranty: 5-year limited
Overall, a great detector.
Anthony in Middle Tennessee -

I have had only 2 other metal detectors and they were both cheap (under $100 each), so I don't have much to really compare the Pioneer 501 to. That being said, I absolutely LOVE this metal detector. I have found coins up to about 8" deep, a silver bracelet at about 10" deep, and many civil war artifacts (mostly bullets) up to about 10-11" deep. The deepest thing I found was a large bolt for a bridge (about 20" long and 1.5" in diameter) at about 18" deep. I hunt mostly in middle Tennessee where there is a lot of clay in the soil, but this doesn't seem to matter much. Multiple tones ranging from low pitched to high pitched depending on type of metal (low for gold/high for silver, etc.) Good discrimination, auto or manual "notch", "disk mode" where the detector only uses the small inner circle of the coil, and displays showing "likely target" and "likely depth". Very good depth, kid-friendly (5 year old son), simple/easy to use, and good features. Over all, this is a very good detector.
Jun 20, 2013
5 people found Anthony's review helpful.