Headhunter PiratePro Reviews, Price and Specifications
Amphibious Land/Beach/Water Metal Detector
Retail price: $439.00
Number of Reviews: 0
Be the first to review this item
Email this page to a friend.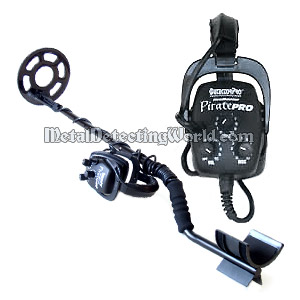 Specifications:
• DetectorPro has made PiratePro with turn-on-and-go simplicity and the "MegaDEPTH" heavy-duty to use on all terrains and in both salt and fresh water. By eliminating a control box, weight of the detector is significantly reduced and so is your arm fatigue. When you travel, the Headhunter also takes up very little luggage space. The PiratePro is made of quality materials, simple enough for everyone in the whole family to use and easy on your budget.
• Operating Frequency: 2.4kHz quartz crystal controlled
• Searchcoil: 8 inch Concentric, Co-Planar, RF insulated against static interference
• Headphone Transducers: Piezo Electric
• Audio Frequency: 400 Hz
• Controls: Volume, Discrimination and Sensitivity
• Search Mode: Silent search, Slow Motion Discrimination
• Operating Environments: Salt water, Fresh water, Land
• Water Resistant: Accidental drops in water and you can hunt in the rain.
• Length: Adjustable from 43" to 53" at the touch of a quick spring-button.
• Foam handgrip
• Comfort strap on arm cup
• Negative buoyancy to keep it firmly under the water
• Weight w/Batteries: 3.5 lbs.
• Batteries: 2 x 9-Volt Carbon Zinc (included), Alkaline, or Rechargeable
• Battery Life: up to 50 hours (when alkaline batteries are used in the detector)
• Warranty: 2 years