OKM Evolution Reviews, Price and Specifications
3D Ground Scanner/ Metal Detector
Retail Price $5,499.00
Number of Reviews: 1
Avg. Rating (1.0 Stars)

Email to a friend.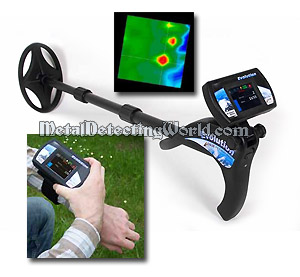 Specifications:
OKM Evolution represents latest technology to detect buried objects and underground structures. Beside the measuring instruments it includes our 3D software which assures a detailed analysis of the measured results.
A state of the art touch screen display and wireless bluetooth communication between the main unit and probe are only some of the innovative features. This device combines different high-end detection technologies in an extremely small, lightweight and compact easy to handle unit. The telescopic probe makes it easily transportable and rugged enough and suitable for nearly all terrains.
Wireless telescopic probe
LED-light for searching in the dark
Full color display with touch-screen
'Live Sound' mode with VLF metal detector
'3D Scan' mode with GST/EMSR scanner: 3D ground mapping
Guick and easy detection of buried materials
Locate hidden rooms or underground voids
Find buried treasure and determine position and depth
Finds gold and silver
Easy handling in difficult terrains
Probe:
Wireless telescopic probe with GST and elliptical coil included technologies of VLF metal detector and EMSR sensor (SCMI-15-D)
Coil probe: 21 x 13 cm (8.25" x 5")
Length: max. 81 cm (32") / min. 47 cm (18.5")
Weight: 1 kg (2.2lbs.)
4 integrated LED lamps for searching in the dark
Control unit with display:
Wireless communication with probe
Can be mounted on probe or carried on wrist holder
Headphones and internal speakers
Dimensions: Only 14 x 8 x 3 cm
Weight: 0.2 kg (0.44 lbs.)
Integrated touch screen
Touch screen display:
2.83" AMOLED-touch display
Display resolution: 320 x 240
Pixel pitch: 0.060 x 0.180 mm
Color mode: Full color (262K color)
Individual contrast settings
Operating modes:
Live Sound (VLF)
3D Scan (GST + VLF)
Batteries:
Control unit - 2x AA batteries (1,5V, 2600 mAh)
Probe - 2x AA batteries (1,5V, 2600 mAh)
Battery status indicator on display
Battery Life: approx. 4 hours
The user interface of the control unit can be operated in 10 languages
Overpriced!
Ioannis in Greece,rhodes -

I have tried several OKM machines from the old Localizer to EXP 5000 and the 3D Ground scanner.
Pulse induction machines are much cheaper and go deeper. OKM claims that their machines are ground scanners, radars etc. and not simple metal detectors but they have very cheap software that shows metal as red colour, and cavity is indicated by blue, etc. It's not as accurate as real Ground radars with real software for experts. If you want to lose your money, buy OKM.
Jan 07, 2016
28 people found Ioannis's review helpful.