Minelab GPX 5000 Reviews, Price and Specifications
Deep Gold Prospecting PI Metal Detector
Retail Price: $ 6,995.00
Number of Reviews: 4
Avg. Rating (4.8 Stars)

Email to a friend.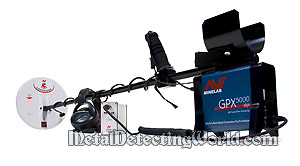 Specifications:
GPX 5000 detector finds gold much deeper than ANY other detector, in ALL ground conditions. It operates very well on salt lakes and beaches and gives significantly greater depth on medium to large targets in areas with nil to very mild ground mineralization.
It is optimized for the most severe, heavily mineralized, variable and "hot rock" infested grounds, even when using a Monoloop coil. It provides the best signal response on sub-gram to large gold in salt saturated and mineralized ground conditions. When searching for gold you need the best!
Technology: Multi Period Sensing (MPS), Dual Voltage Technology (DVT), Smart Electronic Timing Alignment (SETA)
Transmission: Bi-Level Pulse Induction
Turn-on-and-go high performance detector
NEW: Fine Gold Timing gives even more depth and sensitivity than Enhance - bring home more nuggets even from ground thought to be completely worked out!
NEW: Salt/Gold Timingis great for all nugget sizes in salty ground - outstanding at the beach
NEW: Coin/Relic Timing is the deepest ever for benign ground conditions
NEW: Improved electronics for increased target sensitivity and ground balance performance (includes improved Enhance Timing)
8 Soil/Timings is like having 8 detectors in 1, find more gold in ALL ground conditions.
6 factory preset Search Modes for switch on and go simplicity
Ground Balance Type: General, Specific, Off
Automatic Ground Balance options to suit all conditions
Increased Rx Gain adjustment allowing more precise sensitivity control and better performance
Search Modes Preset - 6 modes: General, Deep, Hi-Mineral, Patch, Hi-Trash and Pinpoint
Soil/Timings - 8 timings: Normal, Sensitive Extra, Enhance, Sharp, Sensitive Smooth, Coin/Relic, Salt/Gold, Fine Gold
Quick-Trak Handle: Quick-Trak button on handle
Electrical Interference: Auto push button, Manual Tune (0-255)
Threshold Level: 1 turn variable control
Motion: Very Slow, Slow, Medium, Fast
Rx Gain: 1-20
Audio Type: Quiet, Normal, Deep, Boost
Audio Tone: 1-100
Stabilizer: 1-20
Signal Peak: 1-20
Target Volume: 1-20
Response: Normal, Inverted
Tracking Speed: 3 Tracking Speeds- Slow, Medium, Fast (plus Fixed)
Iron Reject: Off (All Metal), 1-10
2 Search Coils:
11" Double-D coil
11" Monoloop coil as standard
Coil Rx Configurations: Cancel, Mono, Double-D
Headphones Type: Koss UR30 100 Ω with 6.35mm (1/4") headphone socket
Battery Level Indication: Voltage level display plus Low Battery Warning Alarm)
Length: Adjustable from 1100mm (43.3") to 1300mm (51.2")
Visual Display: 43 x 26mm (128 x 64 pixels) LCD with backlight
LCD Backlight: Adjustable from 10 seconds time out to always on (8 positions)
Battery: Lightweight (780g (1.7lbs)) Li-ion Battery with inbuilt Speaker Booster capability (for speaker use)
Weight: 2.4kg (5.3lbs) including 11" coil (excluding battery and accessories)
GPX 5000 5 stars
Mohamed Soumana in Conakry, Rep. of Guinea -

I've never used GPX before but I heard about it in my area. People are using it, that's why I want to try IT myself. I believe it will give a better result.
May 03, 2012
21 people found Mohamed Soumana's review helpful.
Outperformed My Expectations
Roger Kaye in Glens Falls, NY USA -

OK, so I am back from my November 4th-6th outing in Rye Patch, Nevada. It was very cold with a temp of 18 and wind gusting to 20 mph. First day was inside the trailer discussing detecting and the detector. 2nd day all but 2 of the 6 people who attended, split due to a winter storm coming in with 6 inches of snow predicted.
I turned on my 5000 for the first time since I bought it nearly 1 year earlier. Walked 20 feet and found a 4.7 gram nugget 14 inches down. Not bad for finding gold in under 10 minutes! So about 100 feet later I hit a 56.7 gram honker 22 inches down, followed 5 minutes later with a 4.1 gram nugget. So in about 30 minutes, I found nearly $4000 worth of gold. So I worked the area for another 3 hours before jumping in my rented RV and racing the snow back to Reno. I completely missed detecting on Sunday so I actually only used the machine for about 3.5 hours.....
It did outperform my expectations, but it still is a killer on the operator's upper body. I have sorted out a far better way of using my GPX and am looking into the price of materials and cost of production as we speak. One thing I can tell you is that it eliminates the shoulder/neck strain whilst increasing ground coverage by 33%. My normal swing is about 6.5 feet, With my new set up, it increased to 9.5 feet. Go figure. Also had a few other cool inventions which I am currently work on.
Nov 29, 2011
18 people found Roger Kaye's review helpful.
Poorly Designed
Roger Kaye in Glens Falls, NY USA -

I bought a GPX-5000 back in mid-March and have yet to actually use it. I will be doing a 3 day training session in November, so my review is not based on the actual usage, but on the design of this unit. I must further preface this review by stating that I am not a seasoned pro. I am a designer and inventor and have been making a very good living with my inventions. I own a White DFX and have been good at finding coins/jewelery for 3 years, so I have some experience.
What I can't understand is why the company put the electronics on the handle. It is far heavier and will cause fatigue. They made a waist/shoulder strap to help this, but attached the unit to the strap with a bungie cord. It is attached to the neck strap portion. The weight pulls my neck forward. I can't imagine using this detector for more than a few minutes without having a chiropractor along for the day.
So I redesigned the waist belt. I made a swing arm on the belt. I put a pin on the unit and a receiver on the swing arm. It takes no time to disconnect the unit from the swing arm, so it isn't a problem. This works way better. It puts the weight on my hips instead of my neck.
The electronics are in an awkward position. You can neither see or find the switches with ease. My white has an LCD screen, as do many other detectors including other MineLab models. I control all functions and see what I am detecting on a screen. I am in the process of refitting the belt to have the electric on it with the battery. I am redesigning the box so all the switches, buttons, plugs and wires are easy accessible and visible at a glance.
By doing this, I removed about 2 pounds from the wand. If I could make any suggestions to the company, it would be to put a light weight user interface on the unit like my White has. The coils are heavier than the White's coils. Perhaps this is not an issue, but I suspect that weight and balance is a factor for all of us. I like my White coil as there is a center hole so I can see exactly where center is when pinpointing. I prefer the trigger switch over the push button. Big deal? Not really, but ergonomically, it is better.
Again my review is based on poorly designed and user-unfriendly decisions from a company with a stellar record. In my opinion, MineLabs dropped the ball on this unit. For $5600, it should be so easy that even an idiot could use it out of the box. Let's hope it works flawlessly as I am heading to Australia in March of next year.
Aug 12, 2011
43 people found Roger Kaye's review helpful.
You either HAVE IT or you don't !!!
Yellow Hunter in Africa -

Only if you have a GPX 5000, can you say you have the best Gold prospecting detector ever made? If you want to make this claim, and you have anything else, you are simply trying to make yourself feel better about what you have!
This is an amazing detector. I found targets smaller than 0.02 grams!!!!!!!
TWENTY TIPS FOR SUCCESS : 1) STUDY the manual & get as much practice as possable. 2)Repeat step 1 nineteen times.
Good luck to all !!!
Dec 07, 2010
148 people found Yellow Hunter's review helpful.