Minelab Excalibur II Reviews, Price and Specifications
Underwater/Surf/Beach/Land Metal Detector
Retail Price: $1,198.95
Number of Reviews: 6
Avg. Rating (3.3 Stars)

Email to a friend.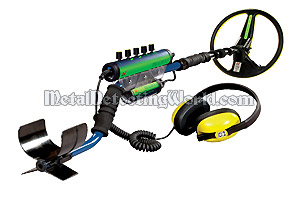 Specifications:
Minelab's unique Broad Band Spectrum (BBS) technology, combined with superior ground rejecting technology, makes the Excalibur II an amphibious version of Minelab Sovereign GT, the ideal underwater machine: the Excalibur II is unbeatable for working the beach, wading in the shallow waters, or diving a wreck at 200 feet for treasures.
Operating Frequencies: BBS 17 frequency technology (1.5kHz - 25.5kHz)
Ground cancelling - eliminates false signals from detecting in salt water.
Automatic Ground Compensation
Simple and effective Discrimination
High Visibility (Hi-Vis) fluorescent bodywork
Search Coil: Slimline coil (8" or 10" option) for reduced weight and improved balance
Headphones: 8 ohms
Controls:
Threshold: 1 turn control and switch
Sensitivity: 1 turn control and switch (Auto or Manual)
Volume: 1 turn control
Discriminate: 1 turn control
Pin-point/Discriminate: 2-position switch
Battery: NiMH Rechargeable battery pack, 12V, 1000 mAh
Battery Life: up to 12 hours
Hi-Vis Skid plate
Side-mount shaft for shallow and surf-wading (available as an optional accessory)
Length:
Maximum - 1220mm (48")
Minimum - 1040mm (41")
Weight: 2.05kg (4.5lbs.)
Underwater depths: up to 200ft (66m)
Warranty:
Control Box - 1 year
Coil - 1 year
Breaks down often
Faust in Uk -

Be prepared for lots of breakdowns. My was a nightmare from the start. 5 breakdowns, and I hardly used the machine. It was also repaired in the US while I was over there, a very good job was done. They replaced an electronic board with a new one, also a search coil and headphones. They returned it to me as new. I used it for 2 months and then stored away in my wardrobe. Last year I used it for a month, and it broke down again. I sent it to a dealer in UK for repair, only to be told that the machine was too old, and he was unable to repair it. The detector was returned to me with all its cable peeled away and a pair of old headphones, not the ones that it was sent with. I therefore recommend to keep away from doggy dealers repairs, and keep away from Excalibur, it will cost you an arm and a leg on repairs.
Oct 10, 2017
0 people found Faust's review helpful.
Excalibur - 3 yrs experience
Larry the MDer in Ohio and Florida -

I've had the Excalibur w 10" coil for 3 years and used it mostly on sand and surf for up to 10 hrs/day (0 discrimination, auto sensitivity, dig all targets). I have found it ideal to charge it 2 hrs for 1 hr of use. Do not overcharge the unit, otherwise, the battery may fail after a year or so. In Pin-point mode (no discrimination), the detector goes deeper than in Discrimination mode; about 3" in wet sand. It takes about 4-6 weeks of use to learn the subtle Target ID tones. I use a head-band to push the headphones against my ears to minimize external noises, like those caused by wind. The balance of the unit is extremely poor so I bought an extension bar to place the control unit behind the elbow for better balance. I also got a knob guard to protect the knobs that sometime work loose and need tightening. I use plastic zip-ties to secure the coil cable on the shaft to minimize possible chatter and noise related to the cable's movement. Make sure that the wire ends do not bend or have pressure on them as this will cause seal or wire breakage.
There is probably no better detector out there for detecting on wet sand and surf. Cons include the following: no battery meter or indicator, extremely poor balance, headphone wire is too short, when in discrimination mode, one must reset the unit each time it rejects a target usually by placing the coil next to your scoop.
Jan 06, 2015
5 people found Larry the MDer's review helpful.
Great Beach/Water Machine
George in SC -

I have had my Excalibur II for eight months and can not find any thing to complain about the operation of the machine. It works great for the beach and for the water. If there was a way to determine the charge of the battery and if only Minelab did not use Cheap headphones on their machines then I would give the machine five stars.
Apr 06, 2014
8 people found George's review helpful.
When it wasn,t in the repair shop it was good!
David Lasanen in North Lauderdale FL: -

I bought it in 2001, had to return it 5 months later, and they replaced it for free. One year later, it was back in the shop again. It took six weeks to get it back. I live in south Florida and had to send it to Las Vegas again! They have so many Excaliburs in the shop, expect a long wait and Vegas is the only repair shop in the U.S. All tolled, I sent it back six times!!! The last time it broke, I put it in the garbage where it belongs. But WHEN it worked, it was good but it took awhile to learn all the functions.
Dec 24, 2012
4 people found David Lasanen's review helpful.
Learning Curve
J. Mattis in Lugoff, SC -

Takes a while to learn the tones, but this is the only machine I have used that actually found gold rings ...two so far. I am really starting to warm up to wet sand searching.
Feb 13, 2012
18 people found J. Mattis's review helpful.
Best Ever
Tom in NY -

This is a very good machine, a bit hard if you are a biginner, but it gets beter when you start learning the signals.
Oct 27, 2010
49 people found Tom's review helpful.