Minelab X-TERRA 705 Reviews, Price and Specifications
All-Purpose Land Metal Detector
Retail Price: $698.95
Number of Reviews: 1
Avg. Rating (5.0 Stars)

Email to a friend.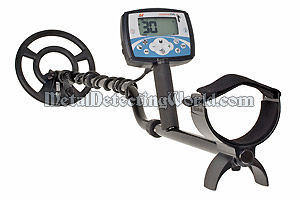 Specifications:
The specialised Prospecting Mode has improved sensitivity making the detector more sensitive to small target signals. The Prospecting Mode is ideal not only when searching for gold nuggets but also for small relics and some types of jewelry. Perfect for when you just want to have it all: the X-TERRA 705 can be used for gold prospecting as well as for coin and treasure hunting - you get a gold detector plus coin, treasure and relic detector all in one!
Minelab's "True Digital" VFLEX technology single frequency detector - you can change the operating frequency simply by changing coils.
Compatible with low, mid and high frequency waterproof coils - all 7 X-TERRA accessory coils can be used with the X-TERRA 705.
Automatic/Manual Ground Balancing, Tracking and now with Tracking Ground Balance Offset adjustment.
This creates a performance advantage in certain areas such as wet/dry sand transition and hot rock locations, by setting the balance slightly positive or negative.
Four preset detecting patterns that can also be customized, plus All-Metal mode.
Adjustable Iron Mask designed for Prospecting Mode.
This feature allows you to find desirable targets lying close to ferrous metals.
Threshold tone for more accurate target ID interpretation.
Two Pinpoint Modes: Auto and Sizing.
With the new Sizing feature, the user gets valuable information on target characteristics including shape and size with variable tone and graphical indicator.
Target ID stability - precise, solid responsiveness in high-trash areas enabling you to efficiently and effectively search sites with a high concentration of junk.
Positive transflective LCD display providing a back light only in dim light conditions enabling better screen visibility in poor lighting whilst saving battery charge in well lit conditions.
Depth indicators, update continuously, even in Pinpoint mode
Batteries: 4 x AA batteries
Weight: 2.8 lbs (1.3kgs)
Good
Darren69 in SA -

I have had this detector for three weeks. So far my best find was a 1881 Six Pence. It has great Auto Ground Balance - I'm very happy with it. And it's also great at discriminating and separating junk from good targets.
Aug 15, 2012
27 people found Darren69's review helpful.