Minelab X-TERRA 505 Reviews, Price and Specifications
All-Purpose Land Metal Detector
Retail Price: $549.95
Number of Reviews: 2
Avg. Rating (3.5 Stars)

Email to a friend.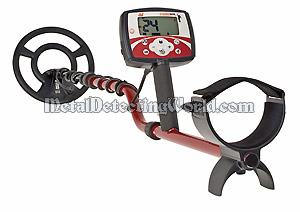 Specifications:
The X-TERRA 505 is the high performance, mid-range detector. The perfect all rounder: equally at home on land or at the beach, the X-TERRA 505 now has full frequency capability and can adapt easily to coin and treasure and relic hunting.
Minelab's "True Digital" VFLEX technology single frequency detector - you can change the operating frequency simply by changing coils.
Compatible with low frequency (LF) 3kHz waterproof coils as well as medium 7kHz and high frequencies 18.75kHz.
The LF coil option is ideal for hunting large, deep targets. All seven X-TERRA Coils can now be used on the X-TERRA 505.
Increased Ground Balance capability, range now (0-50), allowing the user to adjust to ground mineralization.
Extra detecting pattern - Now features 3 preset detecting patterns, that can also be customised, plus All Metal mode.
Choice of 1,2,3 or 4 Tone ID plus Multi-tone Target ID (19) response options increasing your flexibility in deciding how target signals are represented.
Larger discrimination range allowing for finer discrimination of high conductive targets.
Increased Noise Cancel range, now 5 manual settings, allowing greater choice of detecting channel.
Increased Target Volume Adjust range, now (0-30), allowing better target response.
Threshold adjustment, with a range of -5 to 25, allowing the user to set threshold to level where slight variations from either very small shallow, or very large deep, targets can be noticed.
Fast recovery Pin-Point with variable tone and graphical indicator
Depth indicator - updates continuously, even in Pinpoint mode.
Positive reflective LCD display
Batteries: 4 x AA batteries
Weight: 2.8 lbs (1.3kgs)
Nice for the price
Fishguy in pittsburgh, PA USA -

I love this detector, a little intimidating for the novice user and won't get very deep unless you set it up correctly. Just turning it on and trying to detect, you may get 2-4 inches but, after having learned about all the settings, I nailed small targets at 10 inches plus. You get a lot of detector for a little money here made by one of the best in the business. Read the manual, then read it a few more times, then get ready to dig.
Dec 30, 2013
3 people found Fishguy's review helpful.
Good
Kevin Strahan in Natchez,ms -

This machine was a good one for me, the VDI's are accurate, and the machine is light but it felt cheap. And it is not deep, and I couldn't get it to pinpoint.
Apr 17, 2013
4 people found Kevin Strahan's review helpful.