Fisher FX-3 Ferro Probe Metal Detector Reviews, Price and Specifications
Differential Induction Magnetometer
Retail Price: $600.00
Number of Reviews: 1
Avg. Rating (5.0 Stars)

Email to a friend.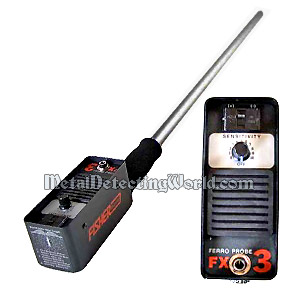 Specifications:
Detects ferromagnetic objects only (iron and steel). Ignores all other metals
Finds smaller targets than a two-box detector, yet searches at greater depth than ordinary search-coil-type detectors.
Slow-motion circuitry with VCO audio output
Built-in speaker, optional headphones
Long battery life on a single 9-volt transistor battery, automatic battery check
Waterproof probe
Simple, one-knob operation
Approximate Penetration Data:
Small 2 Bblade Pocket Knife - 8" - 18"
Bayonet/Knife - 12" - 24"
Short and Long Barrel Arms - 14" - 36"
Iron Money Chest - 23"- 60"
Cannon Ball - 40" - 52"
Comes complete with battery and carrying case
2-year limited warranty
The FX-3 s extremely sensitive to objects with large surface areas, highly magnetized objects and long objects buried vertically. FX-3 Probe can find relics from the smallest uniform buttons and musket balls to the largest belt buckles and box plates. It also finds cash boxes, coin caches in iron or steel boxes or chests.
This probe can get into places detector coils CANNOT reach. Search deep into thickets, trench formations, even between rocks! Find smaller targets than two-box detectors but has more depth than standard search coils.Two sensors respond only to the magnetic field of ferromagnetic objects, ignoring all other materials (copper, aluminum, brass, etc.). As a target is approached, the VCO (Voltage Controlled Oscillator circuitry responds with an increase in pitch and volume then nulls directly over the target.
number one
Ralph Esposito in providence, rhode island -

If you want a detector that gets down between boulders and rocks with deeper penetration than most coil detectors can do, and you don't have to carry a long clumsy in the way detector, then the Fisher FX Ferro Probe is the one for you.
Apr 29, 2012
17 people found Ralph Esposito's review helpful.