Fisher Gold Bug Reviews, Price and Specifications
Gold Nugget/Prospecting Metal Detector
Retail Price: $549.00
Number of Reviews: 1
Avg. Rating (5.0 Stars)

Email to a friend.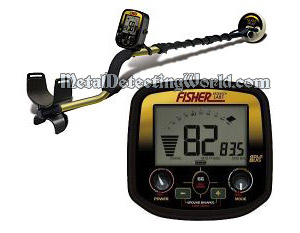 Specifications:
Recommended for Gold Nugget / Prospecting, computerized to give optimum results in all soils.
Operating Frequency: 19kHz
2 Search Modes: All-Metal and Discriminate
Large LCD Screen with 0-99 Numeric Target Identification Display
Large Target Alert
Depth Readout and Running Signal Strength Indicator
No-Motion Pinpoint
Ground Grab and Manual Ground Balance Options
Continious Ground Phase and Ground Mineralization Readout
2 Tone VCO
Threshold and Gain Adjustments
Super Sensitive: the most sensitive gold hunting detector ever made
Search Coil: high powered 5-inch DD, waterproof, effectively cancels out most ground conditions.
1/4 and 1/8 Inch Headphone Jacks
Ultra Lightweight/Best Ergonomics in the Industry
Battery: 1 x 9V Power Supply
Limited Warranty: 5 years
Best VLF on the market period!
Todd in shasta county, california -

Gold Bug Pro is the best VLF gold detector. I have used one for almost 2 years. Where I hunt is mostly hot mineralized soil. That's usually where gold is found. It is very light. You can swing it all day long without pain, or hurting your back. It finds the smallest gold you ever seen, like stuff you find usually with a gold pan. The ground balance is easy, and it stays balanced quite well. When you have to use the iron discrimination mode, it is very trustworthy, and you only lose 1 inch of depth. I use it in surface pocket deposits in Northern California, and the Gold Bug Pro hunts thru the hot soil, ironstone rocks with ease. I went from never finding gold in my life to finding gold on a very regular basis. Could have never done it without this detector, or help from my teacher. The durability is great. I have used and abused this detector and it holds up great. This detector will beat any VLF on the market. I have found alot of gold with the stock 5 inch coil, but I exclusively use the fisher 10 inch dd coil now. I would recommend this size. I have found gold faster and more with this 10 inch coil, basicaly because it covers more ground faster. Good luck!
Mar 15, 2013
40 people found Todd's review helpful.