White's TDI Pro Reviews, Price and Specifications
Gold Prospecting Pulse Induction Metal Detector
Retail Price: $1799.95
Number of Reviews: 1
Avg. Rating (5.0 Stars)

Email to a friend.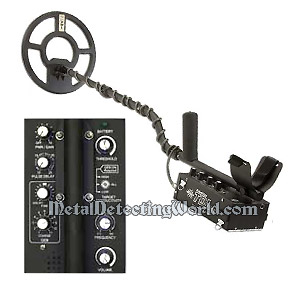 Specifications:
Frequency: 3.25kHz-3.37kHz
Fine-tune Ground Balance Controls - Course and Fine Tuners precisely balance out the iron mineralization of hot rocks, black sand, and other tough grounds.
Pulse Delay Control - Labeled for best performance settings - Small, Gold, Wet Salt, Large Target
Variable Audio Select: with Ground Balance "ON"
3-Way Target Conductivity Selector - allows variable audio to low, high-conductive targets, or both.
Volume Control - you can get extra sensitivity for tiny targets and still keep volume at a comfortable level.
Threshold Control - you can accurately adjust the audio to hear the smaller, deeper signals.
Frequency Control - adjusts for hunting near power lines, microwave or other environmental interference.
Battery Life Indicator - L.E.D. light indicates battery life.
Search Coil: Waterproof 12" spider search coil, other accessory coils available.
Batteries: 2 x 14.4 Volt Lithium-Ion Rechargeable Battery Packs, home wall charger and car fast-charger included.
Warranty: 2-year Parts and Labor Warranty
Professional-level ground-balancing, pulse induction detection, precision adjustments for the worst gold-bearing grounds in the world.
TDI Pro on the Beach
R Manewell in australia -

Hi from Oz! After deciding I needed something deeper than my Dual Field for the beaches, I bought a TDI Pro. And I am glad I did. Going over previous ground, I found six gold rings in the first three weeks, oldies too, some well over 12 inches deep - it's mega deep if you don't have to ground balance. Out of five local beaches, I only found one I did not need to GB, saying that it puts about four inches on my Dual Field. I found one seated liberty dime. The pulse timing to 20 reduces the tiny bits of metal. Anything less does not affect the depth. This detector is perfect for the beach as long as you don't drop it!!!!
Sep 06, 2014
14 people found R Manewell's review helpful.