White's Coinmaster Reviews, Price and Specifications
All-Purpose Land Metal Detector
Retail Price: $179.95 (€139.00)
Number of Reviews: 3
Avg. Rating (3.7 Stars)

Email to a friend.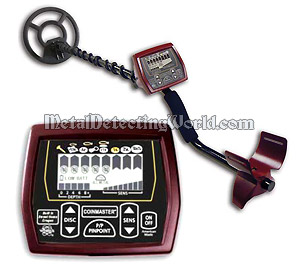 Specifications:
Depth Reading as you hunt- Once you've detected a good target, the screen shows you how deep to dig.
Target I.D - display shows I.D. of target as you hunt
5-Range Discrimination - you can hear and see all, or just the good stuff.
Adjustable Sensitivity - maximizes detection depth in varying grounds
PinPoint/All-Metal Mode
Search Coil: Waterproof 9-inch Spider search coil
Adjustable arm cup and lower rod positions fits children and adults
Low Battery Alert
Weight: 2.5 pounds
Batteries: two 9-volt batteries
Battery Life: 20+ hours
Review from Estonia
Aleksander in Estonia, Tallinn (old Soviet Union) -

I´m the owner of White`s CoinMaster and can say that this device is very suitable for beginners. It is a very good device for little money, but low price does not diminish the detector's ability to search for coins.
Mar 08, 2014
4 people found Aleksander's review helpful.
Great Value
Doc in Dayton Ohio -

I have used this for four months now, and it is really a pleasure to use. Light and accurate, you will get a feel for solid signals and discern them from trash. I would recommend a pin pointer to aid you, as the pinpointer is not too great on this machine. Great life on two 9V batteries.
Apr 21, 2012
8 people found Doc's review helpful.
White Coinmaster
Terry in montrose ia -

I have not found anything with this detector. It just beeps every spot. I dug holes and never found any thing in them. It's a piece of cr*p so far.
Mar 06, 2012
6 people found Terry's review helpful.