White's Coinmaster Pro Reviews, Price and Specifications
All-Purpose Land Metal Detector
Retail Price: $279.95 (€199.00)
Number of Reviews: 5
Avg. Rating (4.2 Stars)

Email to a friend.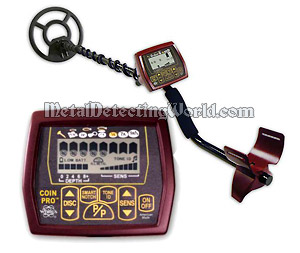 Specifications:
Smart Notch - the "Smart" system notches each zone based on your discrimination setting, just push a pad and nails, foil, and tabs are in or out.
Tone I.D. - 3 distinctly different audio tones: low signals - nails and iron, medium signals - rings and jewelry, high signals indicate coins.
Depth Reading - Once you've detected a good target, the screen shows you how deep to dig.
5-Range Discrimination - You can hear and see all, or just the good stuff.
Adjustable Sensitivity - maximizes detection depth in varying grounds
Pinpoint/All Metal Mode
Search Coil: Waterproof 9-inch Spider
Adjustable arm cup and lower rod positions fits children and adults
Low Battery Alert
Water resistant control box
Weight: 3 pounds
Batteries: two 9-volt batteries
Battery Life: 20+ hours
Warranty: 2 years
Buy a Bounty Hunter for Half the Price!
Ross Peebles in Richfield utah -

I have had my Coin Pro for two years now. I really never had much luck with this detector. At first, I thought maybe it was me just not being patent learning it. Well, I must say I tried everything possible with this detector. I used Smart Notch, then just Iron Discrimination, to full All Metal. Yes, I found a couple clad coins but it was because I had my eyeglasses on and seen the coins as I was sweeping the coil. I have tried sweeping the coil up 3-4 inches above the ground. When I discriminate iron, the detector does null iron but then every small rusty nail and can bits read as 50 cents. I have dug hole after hole only to find nothing! This detector has the worst false signal readings that I have ever seen with any metal detector. This has to be the sorriest metal detector ever made. I have an old Bounty Hunter that I bought from wall-mart back in 2001 for $99.00 . It absolutly runs circles around this coin pro. It's by far the worst $300 investment in a detector that I have ever made. It now stays in my closet hiding away. I would sell the dang thing but I can't bring myself to ripping someone off. If you are here searching for a detector that doesn't cost a lot, I suggest that you go with Bounty Hunter, Garret, Tesoro, or Minelab. Well, anything besides this White's Coin Pro. Trust me, it absolutly worthless unless your search for rusty nails , tin cans, or empty holes. I rated this detector a one star and that's because there is no "0 star" option here. Don't buy it!!!!!!!!!
Jun 19, 2014
8 people found Ross Peebles's review helpful.
OK entry level Detetor
Kevinbeachcomber in Florida, USA -

I purchased this machine because I was tired of swinging a six pound Garrett CoinMaster circa 1976. This unit doesn't like the wet salty beach even when you scale back on the sensitivity. So I have to stay away from the water. That being said, I have found some gold and silver jewlery in the dry sand at the beach. My goal is to find enough to pay for this and then upgrade because I am in Florida and would like a more beach friendly detector. The Coinmaster is great for parks and the like, just don't expect it to be a PRO at the beach.
Jun 24, 2012
9 people found Kevinbeachcomber's review helpful.
Great Coin Finder
Paul Dark in United kingdom -

Easy to use but built in usa for usa coins. But will find all others. The discrimination is fare but not super. This detector will pick up mainly copper & lead. But if you don`t mind diggning up junk turn it on to find silver also.
Bad side is the coil and cable structure wrapping it around the pole weakens the cable conection into the coil.
Mine broke within 4 months. Now in the garbage. This is what I would expect from a cheap chinese import.
If you buy this then take care with it.
Plus side: it will find many things and has the most features availible for the low price.
Aug 15, 2011
9 people found Paul Dark's review helpful.
User Friendly
Joe in little falls, ny -

After owning a Bounty Hunter for many years, I decided to upgrade and get the Coinmaster Pro. Searched my yard in the same places the Bounty Hunter did and started picking up coins right away!
Jun 24, 2011
8 people found Joe's review helpful.
Great Fun
Terry Herwig in waco, texas -

It is my frist metal detector, the frist time i used it was in my own yard. I found $3.21 in a mess of coins throughout the yard, some were pre-1940. This machine is easy to use, and I also like that it's made here in the US.
Dec 09, 2010
36 people found Terry Herwig's review helpful.