White's Prizm 5G Reviews, Price and Specifications
All-Purpose Land Metal Detector
Retail Price: $449.95 (€319.00)
Number of Reviews: 4
Avg. Rating (4.8 Stars)

Email to a friend.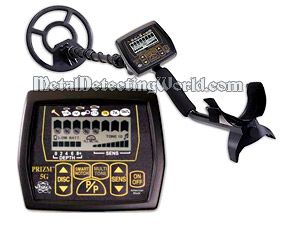 Specifications:
Manual Ground Balance Adjust - you can easily adjust the ground balance for your hunting conditions for better performance and target depth.
Multitone - 8 distinct audio tones: one for each discriminate zone - range from VERY LOW for nails up to HIGH for silver dollars. Also 3-tone I.D. is available.
VCO Pinpointing - Voltage Controlled Oscillation gives a higher pitch as you approach the target. Standard, volume-controlled pinpointing is also available.
9'' Spider Search Coil
Smart Notch - just push a pad and nails, foil, and tabs are in or out, the "Smart" system notches each zone based on your discrimination setting.
Target I.D. - With 8-Zone Discrimination adjusts so you pick what you want to see and hear.
Adjustable Sensitivity - maximizes detection depth in varying grounds.
Depth Reading - once you've detected a good target, the screen shows you how deep to dig.
Pinpoint/All Metal Mode - makes locating your target a snap, just push the pad.
Low Battery Alert
Batteries: two 9-volt batteries
Battery Life: 20+ hours
Rugged, water resistant control box
Adjustable arm cup and lower rod positions - fits most children and adults.
Weight: 2.5 pounds
Warranty: 2 years
Well designed, Easy to use
Joe Myers in Sacramento, CA USA -

My first Metal Detector and I'm very impressed at how well designed the Prizm 5G is and how easy it is to use. Of course, it takes practice but if you're looking for a detector that does easy ground balancing, 8 tone identification, and pinpoint accuracy, this would be a great choice. I love it.
Jan 05, 2016
3 people found Joe Myers's review helpful.
Great and Easy To Use
Chauck in oklahoma -

Easy to assemble. The only problem is the little plastic bolt that holds the coil. It doesn't take much to break it, however, it's easy to use. I found lots of help online, on the White's page. I am having fun finding things, and I just wish it was spring time! It's a litle hard to find things when the ground is frozen. Lots of fun and a blast!
Jan 21, 2012
10 people found Chauck's review helpful.
Great Quality
Matt in eastern, connecticut -

Great machine! It's easy to use right out of the box. My 2nd detector. I have found coins in areas that had just been hunted by more expensive machines.
Mar 05, 2011
7 people found Matt's review helpful.
Great Detector!
Carlos in Elk Grove, CA -

I tried out the prizm 5G at the beach and some parks and found mostly coins and metal objects of little value. I've just started metal detecting recently. I also have a Fisher F2. Both detectors find coins at 6+ inches easily. The discrimination tones on both detectors seem very accurate. Sensitivity adjustment helped at the beach. The 5G has a manual ground balance control that helps at the beach and is user-friendly for any beginner. Larger metal objects are detected much deeper than I expected: a beer can was detected at 11-12 inches at the beach. Would have been a cool find if it was full! :) The VCO pinpointing feature on the G5 is extremely accurate and helpful. It cuts down the recovery time significantly. The controls are easy to use and easy to read large display. I had lots of fun using this detector!
Dec 27, 2010
41 people found Carlos's review helpful.