XP Deus V2.0 - V4.X Reviews, Price and Specifications
All-Purpose Land Wireless Metal Detector
Retail Price: $2,000.00
Number of Reviews: 8
Avg. Rating (4.9 Stars)

Email to a friend.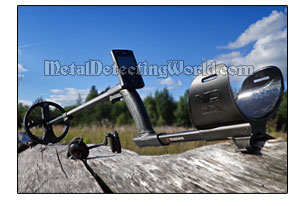 Specifications:
Operating Frequencies:
Versions v2.0 - v4.X (with LF (black) Search Coils): 4 frequencies (4kHz ; 8kHz ; 12kHz ; 18kHz) + shift plus/minus 3 frequencies
Versions v4.X with HF (white) Search Coils: 13 to 15.7kHz, 26 to 31kHz, 68 to 81kHz + shift plus/minus 7 frequencies
Power and Recovery adjustable (2 or 3 times faster/slower than the Gold Maxx Power)
Audio Response, Iron level, Multi tone, Notch, Discrimination etc.
Many advanced functions (Expert)
Ground balance: Tracking, Pumping, Manual, Beach
Motion and non-motion
Extended discrimination range + negative discrimination (-6.4), with even greater precision for Iron
Pre-configured factory programs (10 Switch on and go programs) and 8 memory slots for personal programs
Wireless digital link, multi-channel automatic (36 channels)
Fully telescopic S-shaped shaft
Remote Control pocket sized (hip mount case provided), held by neodymium magnet, graphic display with low power consumption backlight and intuitive screen.
9", 11", 13 x 11" elliptical and 9 x 5" 'sniper'/elliptical Carbon fibre impregnated DD coils, both light and waterproof including coil cover. The ultra-miniature digital circuit, which is integrated in the search coil, processes the information and sends it to the headphones and remote control in real time via a radio link.
Wireless Headphones: Wireless Backphone (with transport case), light and foldable (Backphone removable), with its own operation controls and screen.
USB standard protocol to recharge and download new software/update (via XP website)
Weight: Ultra light detector: 975g Full - 875g without wireless control box (hip-mountable)
Lithium battery, very compact (7g)
Battery life for Coils: about 10-15h (depending on coil, power settings and frequency)
Battery life for Remote Control and Backphone: 20 hours
Fast and intelligent charger, Charge simultaneously the 3 elements (Remote control, Coil and Backphones in 90min)
Warranty: 2 years, battery and charger included
Audio Headphones Specifications:
Wireless backphone with its own operation controls and screen
Light and foldable (backphone removable to replace it easily)
Can control the detector alone: in the absence of the remote control, the headphones enable you to adjust all the main detection settings (Sensitivity, Discrimination, Ground Balance, Operating Frequency, Multi-Tones, Volume, etc.)
Factory programs
Lithium battery and charger provided
ABS transport case
New XP Deus V4.0, New 9-inch HF Search Coil and MI-6 Pinpointer
Ono in Bucharest, RO, EU -

I just started metal detecting with an XP Deus, as my first detector, this year. My long-time hobby is collecting meteorites and colored rocks/stones which I use as an inspirational source in may art (paintings and sculptures).
So take my newbie's opinions accordingly.

1) V4.0 FIRMWARE
It seems better than v3.2. It's running faster than the v3.2, and the search coil is a little more sensitive, and its performance is more "accelerated". It's strange for me to see "negative" Discrimination values. I tested the v4.x more than 200 hours with the -6.4 discrimination setting but I didn't find a single target to either register with an audio signal or with a VDI value between -6.4 and 0 shown on a screen (or on XY visualization screen)... It has 2 new factory-preset programs: #6 - "Deep" with the V2.0 software 'filters', and #9 - "Hot" with the V3.2 'filters', so you can play with them and with your custom programs if you are a fan of older versions.
I am happy with the V4.x and the 11-inch(28cm) black coil!

2) 9" (22cm) High Frequency (HF) SEARCH COIL (white coil) for Gold Prospecting
Its battery life is aprox. 30% longer than of the 11" black coil, and the coil can be used maybe 3-4 days at 30-50 kHz - very good!
However, this 9" HF White Coil didn't impress me much versus 11" black coil, nor in the field, nor in garden tests...
I tested it just in normal (not mineralized) soil, and in iron infested soils (old and contemporary, with Ferrous and Aluminum trash).
In old iron infested soils, the 9" HF Coil didn't succeed to recognize neither copper nor gold targets between two ferrous targets. While using either the Deus preset programs or my customized programs, I got no audio signals, and no VDI numbers on a screen, even when I put Reactivity at 5. The targets were only 5-10cm (2-4 inches) deep... Despite a written "Gold Prospecting" on the 9" HF coil, the coil performed very bad!

I'm hoping the XP Metal Detectors will do something and solve these HF issues.

3) MI-6 PINPOINTER
It is submersible, feels good in hand, and has a "recovery" feature if you accidentally leave it near the dug hole or loose it while metal detecting.
If using it connected to the Deus, you can adjust its Sensitivity up to 50, but, at this level, you would not be able to use it in the field because it has a 50-60 cm (2 feet) almost spherical range, and you'll not figure out from which direction the target "comes". This is why I usually put Sensitivity at 32 - this setting gives me about 7-8cm (3 inches) depth.
The MI-6 pinpointer allows you to change the audio tone and create 4 custom programs.
The MI-6's battery is very good. I have detected 6 times x 8 hours and it's still at 60% - very good!
I couldn't succeed to switch off the pinpointer's LED light (I tried 10-20 times...)

If you use the Deus V4 in conjunction with the 11" coil and the MI-6 pinpointer, the battery life is 25% lower vs. V3.2, nevertheless, you can use the Remote Control's battery for 2 days - very good (I used it with headphones, not with the RC's speaker).

I would like to thank Sergei UpstateNY for his website offering good support to worldwide detectorists!

A friendly salute to all from old Europe and happy hunting!
May 22, 2017
3 people found Ono's review helpful.
The Deus is the Best Detector Out There
Tim Myers in Watervliet, NY USA -

A little over a year ago my good friend Sergei UpstateNY was visiting with his XP Deus and staying at my home. Needless to say we went out detecting with the XP Deus. Within 2 weeks I owned one. I have used Minelabs for years. Don't get me wrong they are great detectors but they are heavy, especially with the X-1 Probe. The XP Deus is hands down the best detector I have ever used. It weighs under 2 pounds and is just a killer on sites we have detected for years; you know those "detected out" sites! If you want your excitement back, you NEED to get one of these detectors! Happy hunting!
Feb 06, 2015
15 people found Tim Myers's review helpful.
XP Deus = Ferrari of Metal Detectors
JackCo in Mechanicsville, VA -

PROS: Light Weight, Completely Wireless, unmatchable ease and speed when changing search coils; Advanced Programmability, Firmware Internet Updates, four Non-Motion Modes and easy Ground Balancing.

CONS: Display is not Color (this is trivial, but my only negative)

The XP Deus with WS5 is the Ferrari of metal detectors. It does have a learning curve... requiring some study to fully appreciate. Performancewise it exceeds all the competition and completely rewrites the engineering design approach to metal detecting. It's just a real pleasure to use. The competition; here in the States, has to realize that the days of carrying a six pound box around, with wires everywhere are ending. Being the Ferrari of metal detectors it is expensive. It looks and feels expensive, but the performance is second to none. It's the best available... I'm wondering what XP has planned next?

Feb 09, 2014
17 people found JackCo's review helpful.
Lightweight that is a real Heavyweight!
Charlotte49er in Charlotte, NC USA -

I have been a metal detectorist for 35 years. I personally have owned over 35+ metal detectors in that time. Just about every brand you can think of. (I started with a Heathkit machine back in the 70's) The XP DEUS is hands down the finest metal detector I have ever used. Many people think it's a toy because of it's ightweight. This is no lightweight. In fact, it's a heavyweight against all other metal detectors! My best find to date is a 10K gold woman's class ring under a steel bolt!
May 04, 2013
11 people found Charlotte49er's review helpful.
"For There Is One XP Deus (God)"
Sergei UpstateNY in Albany, NY USA -

After having used the Minelab FBS metal detectors for 12 years, I was very skeptical about the XP's latest model - Deus, for its futuristic looks and unusual innovations incorporated into a metal detector of this class. But when I tried the Deus, version 2.0, at the "searched-out" site for the first time, my first impression was "Wow! It can't be real!" Five months have passed, and I still have the same impression... If you would like to read the rest of my review, please visit this page: http://metaldetectingworld.com/xp_deus_metal_detector.shtml (copy this link and paste it into your browser window). Happy hunting!
Dec 10, 2012
15 people found Sergei UpstateNY's review helpful.
Sheer Convenience
Rallymaker in Hove Sussex UK -

Well, like many of you out there, I have purchased quite a few detectors over the last few years, and I have got to say the Deus is the dogs testicles, it is easy to transport, physicaly light as a feather. It has cordless headphones, remote control box, very fast response, and it performs like no other machine I have used.
I did pooh pooh it when it first came out because it was so expensive. It still ain't cheep, thats for sure.
This machine is a wake up call to all other manufacturers, and they will have a hard job to follow: big box old tec is out the window!.
Are there any draw backs in performance? None even on wet sand once you learn how to set it up.
XP leads, others can only follow.
Apr 17, 2012
17 people found Rallymaker's review helpful.
My Thoughts on My Deus
Deusbloke in UK -

Honest opinion is it's a cracking machine, and I prefer it over my E-Trac, but not because of the depth issue as they are both about the same. However, with the new coil, the Deus's detecting depth increased. The reason is that the Deus is lightning fast, and nothing passes by undetected under its coil. Although my E-Trac is good in all soil conditions, it does null and lose good targets over iron. Doing an air test over a target next to iron isn't an accurate way to do it. Checking a target next to iron needs to be done while the target is in the ground. The Deus is capable of picking out targets that are all close together with iron in between EFFORTLESSLY! With Deus' lightness + regular adjustments of the program parameters, you have a great machine. Some people voice concerns over battery life... Well, let me start by saying all the new Deuses have the upgraded battery, and, from experience, it's good for 13-15 hours of continuous operation before recharging. The in-field charger, which runs off one battery, takes around 5-10 mins to charge the coil, giving you around 3 more hours. Bear in mind that the battery is good for 3-4 years with regular use and only depreciates to 80% performance. And the replacement of the battery in English money equates to around £30. The best mode is the GMP mode run at 12 khz, but that's just my preference for the soil I use.
A great machine! So if you can afford one, then get the Deus - that's my advice!
Jan 23, 2011
90 people found Deusbloke's review helpful.
Deus hits the mark
Wayne in Calgary, Alberta, Canada -

I have been detecting for about 8 years and have tried many different types of detectors. I have an E-Trac as well as a V3. Each one has it's advantages, but they are both fairly heavy machines. The Deus is feather light. I can swing all day and my arm doesn't get tired at all. The machine is ultra sensitive and has good depth. It compares favourably to the other two. It has lots of variables to adjust for those who like to tweak their machines. The main reason I bought this machine was for travelling though. It is a powerful, compact detector that is extremely light weight and takes up very little space. The only reason that I didn't give it a 5 is that I haven't had it that long, so I didn't want to rate it the highest until I've had a chance to really get to know the machine. Anyway, the best price I could find was about 1700.00 Canadian dollars, which is comparable in price to the other two high-end detectors.
May 15, 2010
141 people found Wayne 's review helpful.