Fisher 1280-X Aquanaut Reviews, Price and Specifications
Underwater/Surf/Beach Metal Detector
Retail Price: $799.95
Number of Reviews: 4
Avg. Rating (4.2 Stars)

Email to a friend.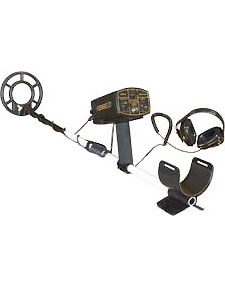 Specifications:
Search Mode: VF-Discrimination, Slow Motion
Searchcoil Type: Concentric, Co-Planar
Coils Diameter: 8" or 10.5", not-interchangeable
Hipmounting: Belt clip for detachable control housing
Submersible: To 250 Feet
Operations: Salt/Fresh Water/Land Operation
Visual Target Response: Light Emitting Diode (LED)
Batteries: (8) 1.5 Volt AA Penlight
Battery Life: Alkaline - 60 - 80 Hours
Headset: Piezo Electric, Custom Design, not Interchangeable
Weight: 5.1 Lbs.
2 Year Limited Warranty
Fisher 1280X
Tomm Ruggiero in VIRGINIA BEACH VA. -

40 years of using Fisher detectors. Use each model for what it was intended for and you will be the happiest person on land and sea. Never a problem with any of them.
Dec 06, 2013
1 people found Tomm Ruggiero's review helpful.
Fisher 1280
Joey in TORONTO ONTARIO -

It's good but a little heavy. Latest models have some sway in rod plastic connections to coil - can break. The black coil is hard to see in water. I consider to paint it white or yellow. This detector has very sharp discriminate. Iwould prefer aluminum shaft with no sway. The waterproof gasket is too thin and needs beefing up. I would strongly prefer a threaded door that would screw on like a jar lid, and no screws to worry about.
Aug 10, 2012
5 people found Joey's review helpful.
Fisher 1280x
Sven in Ontario, Canada -

A wonder water hunting machine especially if your hunting freshwater. Built like a tank with smooth operation. it is an easy turn-on-and-go machine.
Performance wise, not as sensitive to small gold and silver as the Tesoro Tiger Shark. And is comparable to the performance of the Detectorpro Wader which was patterned after the 1280x in miniaturized form. You can't go wrong buying one of these units.
Jul 20, 2010
17 people found Sven's review helpful.
1280x good for many things except
Steve from Ohio in Ohio USA -

I have owned a 1280x for about 10 years. They have not changed one bit since they first came out so they must have gotten it right the first time. It is a good machine for freshwater and complete submersion in saltwater. But as far as surf hunting, welllllll........ IT gives false signals when salt water first touches the coil. A PI detector would be a better choice for salt water edge detecting. The 1280X would be OK with total emersion in the ocean water. The low frequency operation of this machine also has some trouble with black sand that is common on many saltwater beaches. I have used the 1280X in freshwater and it works very well on swimming holes. It does have discrimination and it works very well. Fresh water is where this machine shines and I have made many finds in local swimming holes. It has more than paid for itself. I would recommend the Fisher 1280x for anyone who wants a simple to use land detector although it is a bit heavy. I have found several small gold rings with this detector in the dry sand so it does detect gold well. Just stay away from the surf's edge in saltwater and you should be very happy with the Fisher 1280x.
Mar 14, 2008
157 people found Steve from Ohio's review helpful.