ScanMaster 1550 Reviews, Price and Specifications
Professional Treasure Hunting Quad Collector System
Retail Price: $3495.00
Number of Reviews: 1
Avg. Rating (1.0 Stars)

Email to a friend.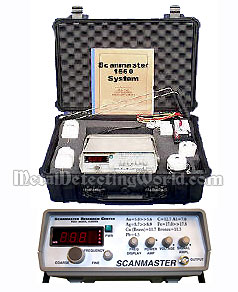 Specifications:
2 MHz Scanmaster Main Control Unit (Latest advanced programmed Frequency generator)
Powerful 12V Transducer System for greater power and long range accuracy
Power Module
2 Receiver Rods
2 Collectors Maximize Target Signal for Easier Location
Pelican Hard Carry Case
Ni-Cad High Power Battery
110V Wall Charger
3 Year Limited Warranty
Used to build them for these people....
Ardie Fasinc in Orlando, Florida -

The unit works very positively if you understand just what you are dealing with. Trimmer pots with feedback to lock the frequency is a must! I don't know about this particular transmitter. To the average Joe who just gets it out of the box, good luck! To a person who has been thoroughly trained of what to expect and how to correct it, it is a pretty cool tool. Something else to those highly educated individuals who are trying to apply current physics, you are playing in the wrong sand lot. The theory and use lie in the realms of hyper-dimensional physics. You need to Google to learn more... (FYI, the Russians are way ahead of us!) There must be zero frequency drift, I repeat, zero drift! How this particular transmitter performs, I'm not sure.
Jul 21, 2010
55 people found Ardie Fasinc's review helpful.