ScanMaster 1520 Pro Quad Reviews, Price and Specifications
Omnitron Scanner with Quad Collector System
Retail Price: $1500.00
Number of Reviews: 2
Avg. Rating (1.0 Stars)

Email to a friend.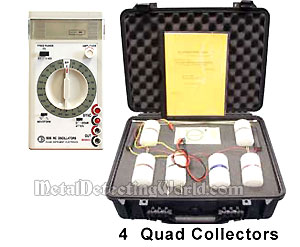 Specifications:
Longer Detection Range up to 1/2 Mile or More
Advanced micro Scanmaster main unit
(4) Quad collectors
One set of receiver rods
Power module
Power transducer
Upgraded Pelican carry case
Complete easy to follow instructions
Limited Lifetime warranty: on main scanner unit only, 90 Days on all other components.
Operates on (2) 9 Volt batteries
Used to build for these people....
Ardie Fasinc in Orlando, Florida -

Not that accurate frequency wise. The frequency is a key factor for performance, period! This little transmitter has too much swing. Zero drift and frequency lock are keys to success. The quad is cool, but not with this transmitter. Good luck to the buyer!
Jul 21, 2010
17 people found Ardie Fasinc's review helpful.
Big Fraud
Carl in Not Submitted -

All of them are fraud!
They are ideal for testing electronics and musical instruments.
May 02, 2010
21 people found Carl's review helpful.