Teknetics Omega 8000 Reviews, Price and Specifications
All-Purpose Land Metal Detector
Retail Price: $799.00
Number of Reviews: 3
Avg. Rating (5.0 Stars)

Email to a friend.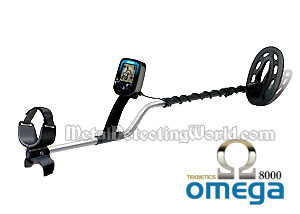 Specifications:
Transmit Frequency: 7.8 kHz
Two-Digit Numerical Target ID System
Tone Discrimination
Number of Tones: 4
64 Levels of Adjustable Discrimination
Multiple Notches Selectable by Categories
Fully Static Push-Button Pinpoint
Adjustable Sensitivity
Battery Life Indicator
On-Screen Operation Status Readout
Running Signal Strength Indicator
Audio Pitch Proportional to Signal Strength
Push-Button and Adjustment Knob Control Interface
2 Search Modes: Discrimination Mode, All Metals Motion Mode
Selectable All Metals Tones
Overload Alarm System
Ground Grab
Manual Ground Balance
Continuous Ground Phase Readout
Ground Mineralization Readout
10" Concentric Elliptical Open-Face Coil System
5 Year Limited Warranty
Accurate Pin Pointing
Tom in The East Coast -

Great detector. Easy to adjust and dial in. Accurate ID and depth indicator. I am so happy that I now have a detector that doesn't require me to fight with 5 knobs just to get the machine to ground balance. A half hour after unwrapping the Omega 8000 I took it to the park and had dug 4 targets in less than 10 minutes. Beyond a cache of gold, what more could I ask for?
Sep 15, 2011
10 people found Tom's review helpful.
$1200.00 results For $599.00
Buffalo Jim in crozet va usa -

I got this detector brand new with 2 coils for $450.00 shipped. Let me tell you even if you pay retail, this unit rocks! It's light and powerful, and finds things which others miss. I have a White's MXT Pro that costs hundreds more, but this unit found stuff in places where I've gone over many times with MXT. It's quiet to run even with headphones on. This detector was going to be a back up, but I use it more than the Whites and outhunt my friends every time. They can't believe it. Kicks the c**p out of the Minelab guys and are they mad! Find one cheap like mine and buy it - you cant go wrong!
Dec 10, 2010
14 people found Buffalo Jim's review helpful.
Best Value for the Money
Jason in Okinawa Japan -

I can't believe I am the 1st one to review this awesome detector. This is a mid-priced detector that is as simple to use as an entry-level machine but offers the performance of a flagship metal detector. There are 100s of fabulous reports about the detector all over the net. Seriously before buying any other machine, take a hard look at the Teknetics line. You won't be sorry.
Aug 27, 2010
25 people found Jason's review helpful.