Teknetics Gamma 6000 Reviews, Price and Specifications
All-Purpose Land Metal Detector
Retail Price: $699.00
Number of Reviews: 2
Avg. Rating (5.0 Stars)

Email to a friend.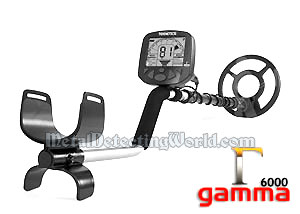 Specifications:
Transmit Frequency: 7.8 kHz
Two-Digit Numerical Target ID System
Tone Discrimination
Number of Tones: 4
79 Levels of Adjustable Discrimination
Multiple Notches Selectable by Categories
Fully Static Push-Button Pinpoint
Adjustable Sensitivity
Battery Life Indicator
Intuitive Menu System
Numerical Depth Readout
Running Depth Indicator
Audio Pitch Proportional to Signal Strength
Rubber-Button Control Interface
2 Search Modes: Discrimination Mode, All Metals Motion Mode
Overload Alarm System
Ground Grab
Manual Ground Balance
Ground Mineralization Readout
8" Open-Face Coil System
5 Year Limited Warranty
Good and Bad Gamma 6000
Todd in Hanover Pa. USA -

It picks up a small single loop earring to about 3". Man's wedding band - at 7". Not a small gold machine. Also, I tested the detector today, set discrimination level to 55, that eliminates iron and foil, it still picks up a nickle to 5". So you won't be digging jink. As for large iron, it gives a quarter signal on the high end. All tests were conducted with a waterproof DD coil. I still like all the features. It is a good machine for the money.
Feb 18, 2014
5 people found Todd's review helpful.
Good and Bad about Gamma 6000
Todd in Hanover, PA. -

I have been detecting off and on for thirty years, I was looking for a new detector that met all my needs and I got the gamma, [1] lighweight [2] runs on one 9 volt [3] ground ballance for the beach [4] discrimination and notch disc. [5]sensitivity setting [6]all metal mode [7] two digit target identification number... Here is the air test results: nickel - 9", quarter - 8", penny - 7", dime - 7", Kennedy Half - 8", Eisenhower Dollar - 9". Here is the bad: not waterproof, the battery door is cheep, with iron eliminated you get quarter signals sound like large iron, will not pick up small gold, like an earring, it must be larger than a small pendant, power button to close to the Pinpoint button. Good detector overall for the money. I don't know many that are better. Optional DD waterproof coil covers a lot of ground and is also lightweight. Made by Fisher.
Feb 16, 2014
6 people found Todd's review helpful.