Fisher 1270 Reviews, Price and Specifications
All-Purpose Land Metal Detector
Retail Price: $699.95
Number of Reviews: 2
Avg. Rating (3.5 Stars)

Email to a friend.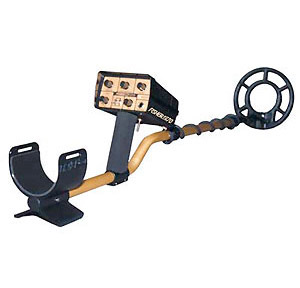 Specifications:
Operation Frequency: 8.2 khz
Three search modes - normal discrimination, enhanced iron discrimination, all-metal ground balanced search
Patented double Derivative, crystal-locked electronics
Enhanced Relic sensitivity
Sensitivity control enables silent search or audio threshold
Silencer for silent (3rd derivative) discrimination
Trigger switch mode change
Trigger switch zero-motion pinpointing
Near perfect balance for comfortable use
Lightweight cushioned arm rest and grip
Low battery alert - LED blinks automatically
Drop in batteries
Double locking lower stem
3 piece breakdown handle
Limited 5 year Warranty
Battery life (2) 9V up to 40 hours
Weight 3.5 lbs
Fisher 1270
Guest in Southeast, Oklahoma, USA -

I found that the 1270 does have a bit of a learning curve. First off let me say it is a good detector, I've used several brands over the last 25 years and always seem to find my way back to Fisher brand detectors. I would guess that over the last 2 years I've found over 50 gold rings with the 1270. But on the down side of this unit I will let you know that to find gold, you will need to dig a lot of junk. It has a 1 thru 10 discrimination setting. If you turn it up high enough to get above pulltabs, you will loose gold rings. You will need to set disc at about 4 1/2. You must hit solid on nickels and dig every signal, this means a bunch of pull tabs. If you are not willing to do that much digging, then you need to get a detector with a notch type discrimination. That way you can select both low and high items to accept and avoid pull tabs. Large class rings will show up as a pulltab on some machines with a meter. It just depends on how bad you want to find gold. I have found a bunch with the 1270.
Nov 03, 2013
6 people found Guest's review helpful.
Fisher 1270 Owne'r Review
ifoundit69 in P.W.C ,VA -

I own a 1270 anniversary edition. This machine, I have to say, goes deep but it loves iron objects. With the normal discrimination at its full setting of 10 and as the primary it does well with silver and copper, gold and brass. I have two Fisher's, and enjoy them both, and also the White's XLT. I ussually give all three a try on each site I go to becuase if one detector misses something, one of the other two will find it.
Sep 17, 2010
11 people found ifoundit69 's review helpful.