Fisher F5 Reviews, Price and Specifications
All-Purpose Land Metal Detector
Retail Price $549.00
Number of Reviews: 0
Be the first to review this item
Email to a friend.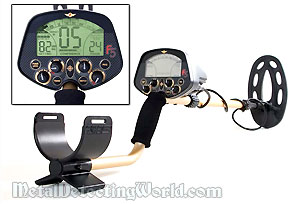 Specifications:
7.8 kHz frequency - good for coin shooting, relic hunting, and casual gold prospecting.
Frequency shift for eliminating electrical interference and crosstalk.
Advanced software-based motion discrimination with notch for searching trashy areas.
All metal autotune mode for deep-searching in non-trashy areas.
Visual target ID by category and 0-99 indication, both discrimination and autotune modes.
Target ID confidence bargraph.
High-resolution manual ground balance with continuous ground readout.
Ground balance range goes all the way to salt.
Continuous display of ground mineral concentration and phase.
Push-button static pinpoint with variable audio pitch and visual depth reading.
Independent gain and threshold knobs provide complete control over sensitivity.
Standard 10" elliptical concentric open center searchcoil.
Two 9-volt alkaline batteries last approximately 40 hours.
Features:
PHASE LOCK allows the user to quickly grab the current PHASE reading on LCD while metal detecting.
TONES - The button allows the user to choose between 1 tone, 2 tones (Iron low tone, foil and above high tone), 3 tones and 4 tones.
PINPOINT - VCO style pinpoint which varies the audio pitch and volume based on the strength of the target signal. The ID window also switches over to inches of depth reading.
FREQ. - Frequency allows you to slightly alter the F5's transmit/receive frequency when facing interference from various sources including other detectors, power lines, etc.
NOTCH - each press of the NOTCH button advances a line that strikes through the target designation in the top ID arc.
KNOBS - strategically positioned for thumbing the controls that you use the most.
GND BAL - high resolution manual balancing feature: turn it slowly for very exact settings, spin it fast for jumping quickly up or down the scale. It is also the ON/OFF control for the Detector.
THRESH - an easily accessed control, you can fine tune and tweak all you want, gives you the ability to search "hard-to-hunt" sites by quieting them down by making the F5 less sensitive to smaller targets.
DISCRIM - the user can easily change settings on-the-fly with instantaneous feedback from the detector as to where you have it set.
LCD Screen information: a wealth of valuable information that is always right there in front of you.
STATUS - the left side on the screen gives you the status of your batteries (2 nine volt transistor batteries) and the SETTINGS portion at the bottom keeps you informed on what changes you are making while adjusting knobs and buttons.
TARGET ID - In the center of the screen is a large 2 digit target identification.
Target ID arc - a quick visual reference on detected targets along the top: 8 segments has a common target designation (Fe, FOIL, 5¢, TAB, ZINC, DIME, QTR and 50+) and conductivity range (15 for Fe, 25 for FOIL, etc.)
Along the bottom of the screen is a CONFIDENCE bar: the software evaluates the target on each swing, determining how sure the detector is that the target indeed matches the designation in the ID arc.
The TARGET ID also switches over to a DEPTH reading when the pinpoint button is depressed.
GND DATA - On the right side of the screen, the F5 gives you live information about the site you are hunting, the Fe-O4 graph informs you of the magnetic susceptibility of the ground you are currently hunting.
Warranty: 5 years