Minelab Safari Reviews, Price and Specifications
All-Purpose Land Metal Detector
Retail Price: $1,295.00
Number of Reviews: 1
Avg. Rating (5.0 Stars)

Email to a friend.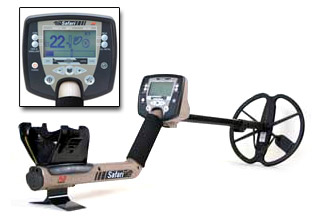 Specifications:
Length: Adjustable from 43" to 54"
Weight: 3.6 lbs excluding batteries
Search Coil: 11" lightweight, waterproof, Double D
Audio Output: Internal speaker or headphones
Headphone Output: 1/4" stereo jack
Visual Display: 64 x 128 pixel liquid crystal display (LCD)
Transmission: Full Brand Spectrum (FBS), simultaneous 28 frequencies ranging from 1.5kHz to 100 kHz
Ground Rejection: Ground Compensation - advanced digital filtering
Discrimination: Linear (-10 to +40 discrimination options)
Custom Select Discrimination: Yes (-10 to +40)
Detect Modes (Preset): 4 (Coin; Coin/Jewelry ; Relic; All Metal)
Detect Modes (Personal): 4 (Programmable/Save)
Auto Noise Cancel (Scanning): Yes
Pinpoint: Non-motion with audio and visual indicators
Sensitivity Adjustment: Fully Automatic/Manual (0-20)
Threshold: Adjustable (0-40)
Target Volume: Adjustable (0-20)
Trash Density: High/Low
Batteries: 12V Alkaline Pack - 8 x 1.5 AA (batteries not included)
4 Year Warranty
Safari...Modern technology in a simple package
Jason Sevene in Swanzey,NH -

This is my second review on this detector. My first one was posted on another web site, but I've since used this detector much more and feel somewhat more qualified to assess its capabilities than before. Being a brand new unit, there really are not that many reviews on this detector out there. I'll first start off by saying that this is one awesome instrument that has really opened up the world of metal detecting to me. This detector came highly recomended to me by George Streeter and NH Bob - two well known local legends in the metal detecting community, and, boy, were they right on this one! I have owned lesser detectors but have never owned such a capable instrument as this Safari. The FBS technology is awesome and really does give you the edge over other detectors in both descrimination and depth. The reset time is ultra quick. A couple of additional sweeps or so and the signals adjust to the target and give excellent renditions of what is possibly there. It is not a magic wand however, and you must learn your detector's sounds and capabilities to be successfull, regardless of what you are using. Be prepared to dig junk as with any instrument, right? I have owned it for two months now and found numerous finds, including 4 large cents, dating from 1798 -1851,(from the same trash infested cellar hole), bucketloads of old colonial buttons, both military and civilian, numerous old and new coins, relics and a French model 1754 bayonet that was approximately 15" deep in my parents backyard here in Swanzey,NH. My best find to date is a $6000.00 wedding ring that I found for a female friend of mine, which was lost in her yard. It showed as #9 "foil." I felt very good for her and didn't charge her a dime for my efforts. All of this has been found with the stock DD coil in a short time. This appears to be a well made and rugged unit. I'm certainly not abusive to it, but it has no problem handling the bumps and bangs on my 4 wheeler getting out to the really deep woods with "forgotten" sites where the goodies lie waiting for us. I certainly do not feel as though I'm an expert by any means. I have only been into this fascinating hobby for a short time now, but this metal detector has certainly helped me out a lot. For me Minelab Safari, combined with research and perserverience, has paid off in a big way! Once again, super detector, super performance, and I see no need to upgrade it in the near future.This will be a definate hit for Minelab! Thanks for reading!
Jul 31, 2009
219 people found Jason Sevene's review helpful.