Garrett Pro-Pinpointer Reviews, Price and Specifications
Hand-Held Electronic Pinpointer
Retail Price: $130.00
Number of Reviews: 10
Avg. Rating (4.5 Stars)

Email to a friend.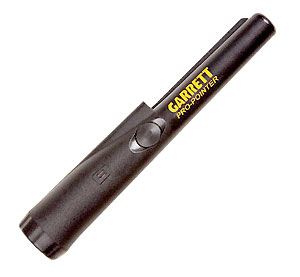 Specifications:
Find Targets Faster - Static detection speeds target recovery
Audible AND vibrating alarms increase in intensity based on targets proximity
Automatically adjusts - Microprocessor circuitry ensures maximum sensitivity with no tuning necessary
Pinpointing tip and side scanning capability
LED Light Assists in low light condition recoveries
Woven Belt Holster to conveniently secure the PRO-PINPOINTER to standard sized belts
Many Uses: Search Walls and tight spaces for targets, find metal pipes in walls or nails in drywall to locate studs
Sifting Blade to Scrape - sift through soil during target recovery
Water Resistant - the Pro-Pointer can be washed in running water or used in the rain.
Pin-pointer For Gold Prospecting
Tony Pena in california -

Hi! My name is Tony. This pin-pointer is the best in gold prospecting!
Feb 28, 2014

S**ks
Kevin Strahan in Natchez,Ms -

Mine chirps at nothing. I turn it on and it turns itself off. I have to turn it on at least 3x before it stays on.
Apr 17, 2013

Beach
Gary W in UK -

Very good for land but no good for saltwater or beach detecting.
It becomes totally unusable in salt water conditions
Feb 05, 2013

Useful Operational Techniques You Should Know
Sergei UpstateNY in Albany, U.S.A. -

This pinpointer really serves the purpose; however, it can do more than just pinpointing targets! There are a few useful techniques such as Detuning, Spin Pinpointer Technique and Junk Detuning Technique that can unlock a full potential of your Garrett Pro-Pointer. To learn details and get practical trouble-shooting, prevention and operational tips for using this unit, please read my "Garrett Pro-Pointer For Metal Detecting" article: http://metaldetectingworld.com/garrett_pro_pointer_pinpointer.shtml (copy this link and paste it into your web browser window).
Jan 01, 2013

A Md'ing Godsend
Dave in Langley B,C Canada -

This extremely rugged pinpointer cuts target recovery by at least 3/4 of the time it takes without one!!! I will not hunt without it!
Aug 26, 2011

Garrett
Roy Savage in Cheltenham, Gloucestershire, UK -

I've used several pinpointers in the past, but this is the only one that really works. When I bought this one, it was the only one for me. My wife also detects with me and keeps stealing mine so I bought her one as well. As other have said, it cuts down time on digging finds and much smaller holes - "damage", in the ground, second best bit of kit after Minelab Etrac.
Jun 25, 2011

Wish I Would Have Had One of These for Years
DrDanO in Spring Texas USA -

I purchased one of these little guys at the recommendation of the store owner who sold me my newest metal dectector. I've been in this hobby for over 15 years and I can't even guess how many coins and other small objects I have missed simply because I gave up on trying to find whatever it was that my detector was telling me was there... somewhere. If you are in this hobby, I am sure you've had the same experience. A dirt or mud covered coin is often very hard to find when you dig the hole and have a pile of dirt to sift and chop with your digging tool. I was skeptical about buying the little handheld detector - something else to carry, or would it really work in the field as well as it did in the shop, and other concerns about putting down $120 for something I have not "needed" for years. But the sales guy let me play with his for a few minutes in the shop and I decided to give it a try. Wow, what a useful tool! With my new detector telling me the approximate depth and size of the object, there are times when I can just take out the plug of dirt and use the handheld to decide if the target is in the plug or exactly where it is in the hole, and not have to get the detector to set on pinpointing and still not sure exactly where the target is and have to dig a bigger hole or chop up the plug trying to find it. The handheld makes really short work of finding the target. I can even push the dirt around with the tip and know exactly where to take just a little more dirt out and find the object. It picks up all metal, no discrimination, but it sure does find whatever your looking for fast and easy. I wish I would have had one of these years ago. How many coins or rings or small pieces of jewelry have I left in the ground out of frustration? Who knows, but I won't leave any in the future with this little guy. Strongly recommend it!
Mar 08, 2010

The Best
Guest in VA -

I have used a few kinds and this by far is the best. Takes a bit to get used to due to it sensitivity, but once you master it, you will recover relices faster and without damage. I have had it covered in mud and snow and never missed a beat!
Feb 14, 2010

Excellent Product
Stan in Marietta, Georgia, USA -

I have never owned a pinpointer before, but bought it based on word of mouth and am sure glad I did. Excellent product - durable, well shaped and balanced, good range. If I lose or break this one, I will certainly buy another!
Nov 01, 2009

Time Saver
Mike Ingle in Carrollton, TX USA -

The Pro Pointer has really speeded up my recovery of coins and allows me to avoid digging large holes. It gives a good tone to about three inches on coins and further for larger objects. I have seen folks digging coins without a pin pointer, and they usually dig really large holes to insure they get the coin because pinpointing with the detector coil is generally not too accurate, resulting in excessive scarring of the ground, especially in parks and other locations where restoration is so important. The audible pulse tone and vibration gives very accurate info on how close you are to the object and gives a solid tone when within an inch or so which allows recovery with much smaller holes to repair. The water resistant feature allows you to search in rain or muddy conditions and it can be rinsed off under water without damage. I have never dropped it so I cannot attest to impact damage but I've had no issues with everyday use. This is a precision instrument that has made my life much better and I highly recommend it.
Oct 25, 2009