Explorer SE PRO Reviews, Price and Specifications
All-Purpose Land Metal Detector
Retail Price: $1,495.00
Number of Reviews: 2
Avg. Rating (5.0 Stars)

Email to a friend.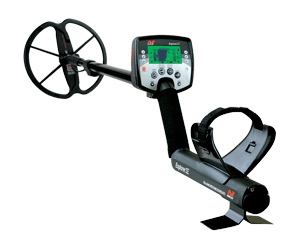 Improvements in Performance:
"Butterfly" search coil re-designed to pickup the smaller targets better and Deeper
Search coil provides better Separation of Targets over the previous coils.
Detector's sensitivity can be operated at a higher level with less noise and interference.
Faster and more powerful microprocessor with lower power consumption makes the Explorer SE Professional more responsive. Spend more time detecting; less time programming and recharging.
Menu structure gives easier access to key functions and makes Explorer SE Professional programming a breeze.
Fast learning curve; intuitive, easy-to-learn interface.
Audio modulated pinpoint mode makes target size and depth identification more reliable. Save valuable time recovering targets.
Simplified Iron Mask coordinates 0-31 with full ferrous discrimination capability. Easy correlation of Iron Mask settings with digital readout values; more user friendly function; simplifies use of Iron Mask.
Audio tone settings with new "Pitch Hold" mode for picking up even the faintest of target signals. Improved recovery rate for the smallest or deepest targets.
Quickstart settings make the learning curve on the Explorer SE Professional a more rewarding one.
New finer threshold and volume adjust controls. Fine tune "Threshold" and "Volume" to perfectly match operating conditions. More accurate and comfortable settings.
Improved threshold stability in noisy/trashy environment. Less false signals; cover more ground faster.
Larger target coordinates in digital screen and improved menu fonts. Easy to read user interface.
Improved weight and balance with new lightweight waterproof coil; comfortably detect for longer periods of time without fatigue.
Specifications:
Minelab Warranty: 2 year
Transmission Technology: Full Band Spectrum (FBS) 28 Simultaneous Frequencies ranging from 1.5kHz - 100 kHz
Software: 3rd Generation Software - improved user interface
Ground Balance Modes: Auto Ground Compensation - Advanced Digital Filtering
Target Identification: 2 Dimensional Smartfind Size/Conductivity and Ferrous characteristics
Audio Tone Identification: Constant to Multi-tone; customizable Conductivity/Ferrous
Audio Tone Settings: 3 Settings: Long, Smooth, Pitch Hold
Discrimination: 2 Dimensional Smartfind Discrimination
Iron Mask: Simplified Iron Mask coordinates 0-31 with full ferrous discrimination capability
Depth Indicator: Yes; now also updates in pinpoint mode
Sensitivity Adjustment: 2 Settings: Semi-Automatic and Manual 1-32
Noise Cancel: Automatic and Manual
Pinpoint: Non-motion modulated audio for improved target size and depth identification
Low Battery Audio Alarm: Yes
Batteries: 1600 mAh NiMH or Alkaline batteries
Coil: Lightweight 10.5" Double D (DD) waterproof coil
Visual Display: 64x128 pixel LCD panel with improved graphics
Headphone Input: 0.25 inch Stereo Jack
Threshold: Finer adjust level; improved stability in high-trash
Recovery Speed: Selectable (Fast and Deep)
Optional Accessories:
Coils: 8" FBS Coil with Lower Shaft
Battery: 1800mA/H NiMH Battery Pack; 'AA' Housing Battery Pack
Charger: 12V Car Charger
Minelab 2nd Edition Pro.
Andy White in lancs.U.K. -

Having been a detecorist for many years, and have had lot of different machines, I now use my SE Pro with the greatest of confidence. Yes, there's quite a learning curve involved to master the Pro, but, generally speaking, it does its job easily. I am not going to make any great claims as to what I have found, needless to say that if you are in the right place, at the right time, then this is the right detector! Good luck!
Jan 04, 2012
5 people found Andy White's review helpful.
Great Metal Detector.
Jesse Depew in Cape Canaveral Fl USA -

This detector takes a little practice to get used to the sounds but you can find an emulator online for it. After having this for 4 months and only getting in about 24 hours per month, I have cleaned out a 2-mile stretch of beach from my house. I am finding dimes and pennies 15 to 19 inches down in wet or dry sand. Living near Kennedy space center I find rocket parts down to 2.5 feet. The only thing I don't like is the headphones. With a pair of Greyghost headphones, I can tell how deep the object is buried without looking at the display. I would recommend Minelab detectors to anyone wanting to upgrade from a starter detector to a serious machine. Just be ready to dig deep.
Dec 07, 2011
8 people found Jesse Depew's review helpful.