Torfino Metal-Tec Reviews, Price and Specifications
Hand Held Metal Detector
Retail Price: $179.95
Number of Reviews: 0
Be the first to review this item
Email to a friend.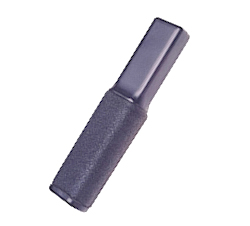 Specifications:
Detection: Triaxial Detection field, uniformly detects ferrous and nonferrous metals inches away in all directions regardless of the position relative to the subject
Dimensions: L = 7.9" (20.0 cm), W = 1.75" (4.5 cm), H =1.30"(3.3cm)
Weight: 8.8 ounces (249.4 grams)
Sensitivity control: Factory set and calibrated
Indicators: Silent Vibration
Controls: Single control (Power On / Off)
Battery: Standard 9 Volt Alkaline (provides 2,000 average 15 second searches)
Operating Temperatures: - 15 F ( - 26 C) to + 130 F ( + 54 C)
Humidity: 98% Non condensing
Case Material: High Impact ABS plastic with a tensile strength of 6,800psi (ASTM D 638)
Operating Frequency: 360 kHz
Regulatory Standards: FCC Part 15 (ID# NJ21200METAL-TEC), meets OSHA CFR-1910.97a2i, IEEE C95.1 - 1992
The Metal-TEC was designed to be used as an enhancement of the hand during searches, requiring only one hand for operation. Silent vibration gives the officer a tactical advantage; will not alarm the subject being searched (or others around them) that a weapon has been detected. Alerts the officer to weapons, razor blades, handcuff keys, and even small pieces of metal foil (which may contain drugs) inches away. Will pinpoint the location of a hidden metal object and determine the shape and size of the object to aid the operator in distinguishing between metal objects in clothing vs. concealed weapons.